The mysterious Cuban video about Rodiles and Diaz-Canel
The video is old, it isn't breaking news. Both Rodiles and the many other reporters who have echoed this news have forgotten to underline the fact that this video is "old".
By Jorge Davila Miguel  (Cubaencuentro)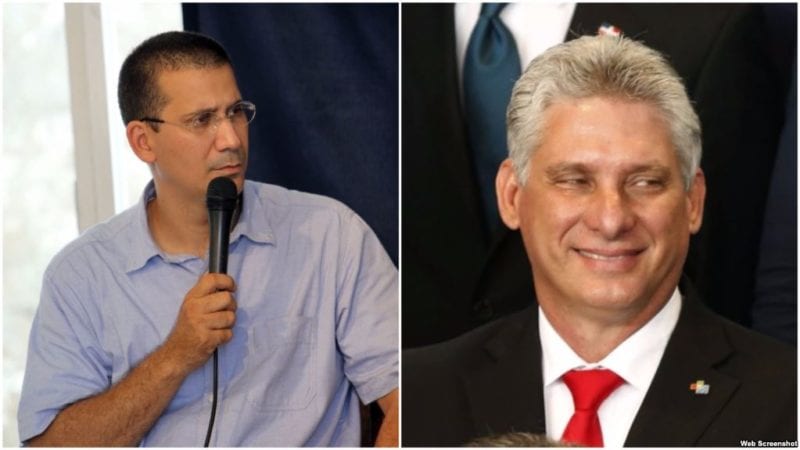 HAVANA TIMES — A new video has gone viral in Miami. It's about Miguel Diaz-Canel, the Cuban vice-president and it took over the media last week and even reached Fox News. The famous Cuban opponent Antonio G. Rodiles – the non-stop traveler, the mastermind behind this news and also the person to introduce Diaz-Canel in the aforementioned video – uploaded it to YouTube.
Rodiles not only introduces the Vice-President, but he interprets him, analyzes him and even foresees the future. He discovers alarming proof that the Cuban politician isn't a reformer!, as if it were breaking news, and he reveals this to the world. God lives! The audience is horrified, yet pleased, that Diaz-Canel isn't what some people had imagined him to be – God knows for what reason or rampant speculation. How could a true Communist who has already been in power for four years and months chosen by Raul, be a reformer?
But, something needs to be stressed here: the video is old, it isn't breaking news. Both Rodiles and the many other reporters who have echoed this news have forgotten to underline the fact that this video is "old". It wasn't a discovery, breaking news, a first, something sensational which would prove just how barbaric Castroism is, once again. Because this video has been going around Havana since July, which is where Rodiles must have copied it from to debut it with glory and mischief on YouTube.
Filmed six months ago, it was specifically on February 13th this year at the Higher School of Cadres of State and Government (who are all members of the Communist Party) during a spartanly named seminar The Ideological Politician in Current Times.
In the video, Diaz-Canel attacked the news platform On Cuba, which belongs to a company based in Miami and is labeled "very aggressive to the Revolution" [which] "we have to shut down." "We are going to close down this digital platform and let the scandal come. Let people say we censor, that's fine. Everybody censors," Diaz-Canel said in a video that lasts about three hours.
And different dates aren't going to change his words, but as all of his colleagues in the press must perfectly know – good reporting is not only telling people how, where and even why something happened, but when they happened too, such as in this case.
It's very important in this case. Because the Cuban vice-president's words are heard in Miami, attacking "counter-revolutionary" media platforms such as that of On Cuba, what people logically think is that they will close it down tomorrow, just like other media platforms or press outlets, such as 14 y Medio or Cuba Posible. And many people happily wait to prove that "everything is always like this" there, via never-ending news cycles.
But, if you find out that this took place six months ago, during which On Cuba has continued to not only work, but a month after Diaz-Canel's threatening words, in March, its official accreditation as a press outlet was renewed, the conclusion would be different.
For example: "look what Diaz-Canel said and nothing has happened." Although, of course, it wouldn't have been news, even ideological activists wouldn't have had their party and would be forced to consider other matters, like for example, how Cuban power structures would work, outside of the well-known concept of a simple sultanate.
Tomorrow, any of these media platforms could be shut down, but it hasn't happened in six months – that's the reality – in spite of Diaz-Canel guaranteeing this. And this angle could have also been news had it been made public on the right date: how a Cuban vice-president makes such claims, even talking in the plural as if all of the Government were agreeing with him, and nothing has happened yet. But, maybe the issue is more complicated, rough and not very beneficial to deal with on local news.
And there are other questions that still remain to be answered: Who leaked the video? Is there anyone who dares to do this within such a closed group? And, why? Did the Cuban presidential hopeful – because he technically and really is only this, a hopeful – want to blatantly show his top-down disposition to those who will decide? Had somebody leaked this precisely to show how Diaz-Canel threatens and then doesn't deliver, "he feints and then doesn't deliver the blow"? Ah, politicians, leakers and journalists.