The Mystery Surrounding a House Located on 13th Street in Havana's Vedado
By Lynn Cruz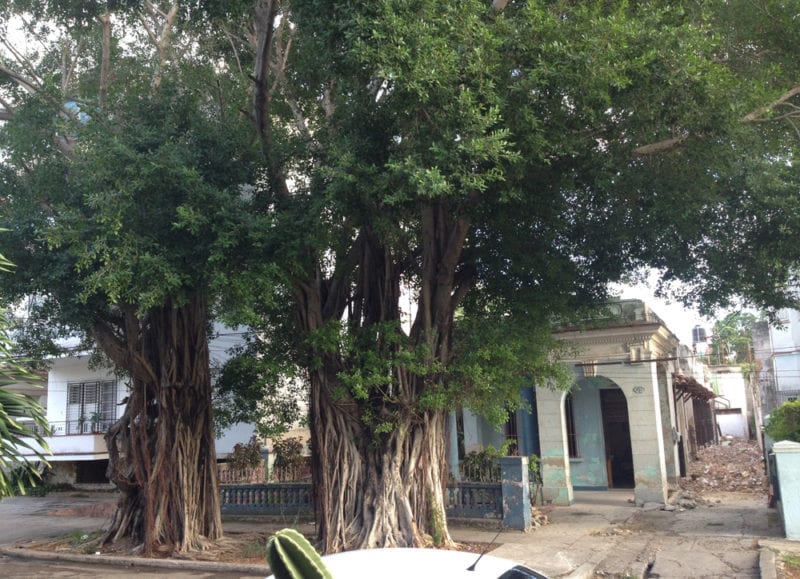 HAVANA TIMES — The sound of a sledgehammer banging on the walls, the ceiling of a house adjoined to my building, located at No. 851 13th Street between 4th and 6th streets, in Vedado, has been eating away at my nerves for some weeks now.
The house's original owners left the country and so it fell into the Government's hands. In the beginning, it served as an international relations office for the Culture Ministry, then it went to the Army and lastly, to the state-owned People's Camping company.
It has been empty for about three years now, but the place is still guarded day and night so nobody can claim it, I imagine. Today, you can see the considerable deterioration due to neglect, as well as the fragility of its columns, the damaged ceilings, carpentry in a poor state.
It is striking that building materials, which are only being sold to repair homes damaged by the hurricanes at this moment in time (sale to the rest of the population is absolutely banned), aren't an obstacle in authorizing this large investment so as to convert the abovementioned building into five apartments for Tourism sector officials, according to what some neighbors have told me.
Long housing lists are more readily available to give us a better idea, not just the people I've mentioned before, those affected by the hurricanes, but those working in state institutions: Public Health, Culture, Education, etc.
The system is designed so that everyone has to wait for the number assigned to them by the National Housing Institute, but as well as the file number there are other factors that are also taken into consideration, like for example, now when the Tourism sector is a priority, especially its managers, who are furthermore placed in very privileged parts of the city.
By converting a house into something that sounds like a 5-family apartment block, I imagine that the Ministry of Physical Planning must be carrying out a rigorous study regarding its sewage and drainage system, or I hope so at least, if this is the case, that the already designed systems can cope with so many residents, as it only takes a small shower of rain to make most of Vedado flood because of blocked drains and overspilling ditches, maybe because of indiscriminate building permits, without taking into account all of the above factors.
Another question is whether the State will override the law and authorize changes to the building's facade, and by doing so urban design, as there are rumors going around that they are thinking about cutting down one of the ficus trees so as to make a garage entrance, which will inevitably threaten the environment that has already been harmed in this city.
I am drawing attention to this too because on the right-hand side of the building, there is another house which used to belong to the Taquechel family before 1959, who also left the country so it also fell into the Government's hands.
Some if its official uses included it being the Albanian Embassy and also a home dedicated to the cause of the Cuban Five, who served sentences in the United States, among other uses.
That's how two of the four ficus trees were indifferently cut down; there is only one left on the corner, as the hurricane ripped the other one from its roots, which workers had cut a few months before, instead of pruning it.
The reality is that trees are disappearing in less visible areas or on streets, but in some places neighbors have risen up and stood in front of trees as a way of protesting against green area workers, or whatever state-controlled company that comes to kill them. Cries for defending and protecting the environment and this allegedly unbreakable part of Vedado's urban design have all fallen on deaf ears.
There's nothing else to say to the authors of these criminal acts but: Did you plant them? Did we plant them? They were here a long time before any of us were born.