The Squandering of Cuba's Greatest Resource
Alberto N Jones
HAVANA TIMES — On November 17, 2014, the most influential print media in the United States, the New York Times published the 6th consecutive editorial on Cuba entitled "A Cuban Brain Drain, Courtesy of the US".
This shocking revelation was unknown to the majority of its readership, accustomed to a hostile rhetoric about defecting baseball players, stagnated economy and a lack of basic goods.
This contradiction became clear, when Secretary of State John Kerry, US Representative to the UN Samantha Powers and White House Press Secretary Josh Earnest acknowledged Cuba's critical contribution in the fight against Ebola, while at the same time the US State Department is covertly supporting the infamous Cuban Medical Professional Parole Program.
This program is the brain child of Emilio Gonzalez, an extremist right wing Cuban American, who during his stint as the head of the US Citizenship and Immigration Services in 2006 and fully supported by the Cuban American Congressional delegation, made it part of George W. Bush anti-Cuba policies.
This barbaric piece of legislation is intended to undermine the Cuban government, by encouraging and facilitating Cuban physicians, dentists, therapists, pharmacist and psychologists, working with the poorest of the poor in the most intricate places around the world, to abandon their patients, head to the US and embrace the American Way of life.
Their hate against Cuba, did not allow Ileana Ros-Lethinen, Mario Diaz-Balart, Marco Rubio, Bob Menendez and others to reflect on the harm they were doing to people who may have seen a physician for the first time in their lives and whose destiny has been one of hunger, pain, suffering and death.
Cuban Government Shares the Blame
At the same time, huge blunders by overzealous, insensitive and unresponsive managers of the Cuban Ministry of Health and other governmental entities, repeatedly ignored pleas for fair and just wages, better living conditions in situ, rescinding the draconian limitation on family imported goods and the prohibitive Customs tariffs.
Promises to MDs of the sale of used cars, homes, appliances and the timely access to their bank accounts were broken with impunity or delayed at will without any recourse.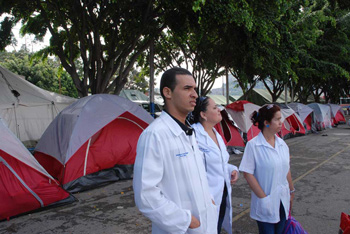 Many managers of the Cuban healthcare missions in different countries assumed or were given overwhelming authority, which lead to unfair disciplinary actions, tarnished careers and denied legal recourse to claimants. This combined with the USA's Cuban Medical Professional Parole Program, created the perfect broth, the right temperature and the ideal humidity for these germs to proliferate and create the tragic defections that follows:
2006 – 11, 2007 – 781,   2008 – 293,  2009 – 519,  2010 – 548,   2011 – 384,  2012 – 681,  2013 – 995,  and 2014 – 1278.  Total – 5,486
Far worse than the cold number of 5,486 professionals ripped away from their patients, is the fact, that none of these professionals were serving patients with options to choose, pay or go to another physician; only suffer and die.
Cuba has been robbed of thousands of years educating its people and millions of dollars in training, healthcare, subsidized housing, food, transportation, stipend and more, to see millions of its intended patients deprived of their service.
Reenacting a similar action against Cuba in 1960-63, when 50% of its 6000 physicians were lured to Miami, by dangling in front of them an expedited exit –Visa Waiver- and the glamour and glitter of the American way of life, millions of patients were left to suffer or die, because of the loss of their expertise.
Cuba countered by building 22 Medical Schools and 80,000 physicians in lieu of one medical school and 3,400 physicians in 1963, to treat and expand the healthcare service of its people and those of 60 countries in 4 continents.
This scorch land policy failed in 1963 and will fail in 2014, as Cuba continues to train thousands of conscientious physicians willing to be on the front line against Ebola in Africa, malnutrition in Pakistan, blindness in Bolivia or Cancer in Surinam.
But the Cuban government must be willing to review critically and correct immediately, the way the country's most important, valuable and respected representatives have been treated by insensitive bureaucrats and mediocre politicians placed in key positions.
The recent financial compensation which is paid to healthcare professionals in Brazil, South Africa and Portugal, may not be just, but is fair enough to keep both parties happy. How many billions of dollars and professional manpower has Cuba lost, by underpaying or irritating, those who left their patients in disgust?
Cuba has learned that its massive humanitarian healthcare programs can also yield substantial income. There is no doubt, that in the coming years, Cuban healthcare services will become the largest and most stable source of income of the country.
Great Potential
Cuba's geographical location, make it readily accessible to tens of millions of women deprived of reproductive rights in the United States by fundamentalist religious groups. Millions of Hispanic ex-military men and women in dire need of mental health treatment, sufferers of Post Traumatic Stress Disorder, Substance Abuse, Depression, Bi-Polar etc., with insufficient Spanish Speaking mental health professionals, could flow to Cuba for help, along with with millions of senior citizen fleeing violence, insecurity and un-affordable cost of living.
Why then, with such a bright healthcare future, is this self-destruct policy in place, because of a few leaders counting pennies and cheating the nation's most venerable workers, out of a fair and decent standard of living?
Thousands of Cuban physicians who were enticed by the Cuban Medical Professional Parole Program to defect after being alienated by absurdities of the Cuban Ministry of Health and others and led them to ignore the suffering of their patients, can be found in Hialeah behind supermarket counters, driving tractor trailers, cleaning bathrooms or learning how to rip-off Medicare without going to jail.
Cuba must demonstrate to the world as it did in the 1960-70's and 1990's, what a nation with vision and principles is capable of doing. One way would be by building three huge and superbly equipped Medical Centers and Research Institutes in Santiago de Cuba, Holguin and Santa Clara, to provide critically needed service to millions of patients without healthcare insurance in the US, the Caribbean and Latin America and magnanimously salvage the education, prestige and expertise of those professionals, who for whatever reason left their posts and patients and return them with dignity to their profession, to serve their country, the world and out of the fangs of the Cuban Medical Professional Parole Program.