The Tragic Death of Yadier Pedroso
Cuban Baseball Loses One of Its Great Stars (and some of us lose a respected friend)
Peter C. Bjarkman*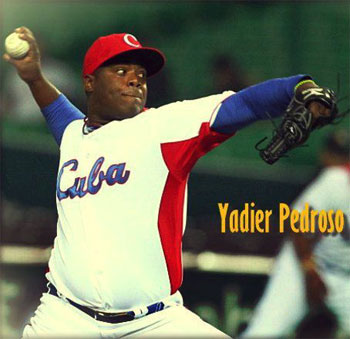 HAVANA TIMES— On Saturday night in Artemisa – a small provincial capital to the west of Havana – the Cuban baseball community sadly lost one of its top stars of the past decade.
Jovial and talented Artemisa right-handed pitcher Yadier Pedroso was killed when the car in which he was riding with two friends collided with a cargo truck at approximately 10:30 pm.
Details are slim but it is known that all three occupants of the automobile perished; earliest reports do not specify who was actually driving the vehicle.
The collision, which occurred at a crossroads known as Magna Central on the rural highway leading into the provincial capital of Artemisa, came only two days after the Cuban national team had returned home from the World Baseball Classic event in Japan.
An ace starter with the Cuban League Artemisa Cazadores ("Hunters") ball club, Pedroso's oversized portrait is one of four that currently hang from the light towers in Artemisa's picturesque 26 de Julio ballpark (the other three belonging to teammates and one-time fellow national team members Yulieski González, Jonder Martínez and Miguel Lahera).
A veteran of eight-plus National Series seasons, Yadier Pedroso would have turned 27 in June of this year.
Cuban baseball boasts a rich and glorious history, but one of its less welcomed legacies is the ironic concurrence of devastating fatal automobile accidents that have cut short in mid-stream several of the island's most lustrous post-revolution baseball careers.
José Antonio Huelga might have been the greatest post-revolution pitcher ever had his life not been snuffed out after only seven league campaigns; Huelga's demise occurred on July 4, 1974, on a highway near Mariel, a dozen miles west of Havana.
José Huelga remains Cuba's career ERA leader (1.50) and the league stadium in his hometown of Sancti Spíritus – ironically the site of next weekend's schedule league All-Star Game – today bears his name.
Hard-throwing left-hander Santiago "Changa" Mederos rang up league-record strikeout totals (since eclipsed by Maels Rodríguez) in both the 1969 and 1970 seasons; ten years later (December 15, 1979), at the outset of his fifteenth league outing, Mederos also perished in a spectacular auto crash along a desolate country roadway only miles outside the capital city.
The long-time Sports City Havana ball park that served for league play until last season when the Havana Metros ball club was finally abandoned is today known as Changa Mederos Stadium.
In December 2000, only weeks after the opening of a new league season, Camagüey outfielder Miguel Caldés was similarly killed in his home city by a wreck that also injured several of his Camagüey teammates.
Caldés had been the 1995 league home run champion and also the starting right fielder on the 1996 gold medal team at the Atlanta Olympics.
Long-time national team ace Norge Vera also saw his lengthy career terminated by a crash last year in Santiago, although Vera was fortunate to survive the incident. Now Pedroso's name has been added to this list of inexplicable Cuban League highway tragedies.
Yadier Pedroso enjoyed a substantial if truncated Cuban League career, highlighted by an ERA championship in 2009, the same year his Habana Province team claimed its only National Series title.
One of the several renowned starters on a now-defunct Habana Province Cowboys club that in the late 2000s featured five national team pitching stalwarts (Pedroso, Jonder Martínez, Yulieski González, Miguel Lahera and Angel García), Yadier flashed brilliance in both the 2009 and 2010 post-season playoffs, winning two playoff games both years and not allowing a single run over his 14 innings of work on the latter occasion.
He also paced the circuit in strikeouts last season (2012) while laboring for tail-ender Artemisa (one of two new league teams established with the breakup of Habana Province); his 128 Ks over 129 innings actually left him tied with Odrisamer Despaigne (Industriales), but the latter hurler toiled in the playoffs and thus posted both more games and more innings than Pedroso. Yadier's final career 878-353 strikeouts-to-walks ratio remains one of the best in the Cuban League over the past dozen or so seasons.
Yadier Pedroso – Cuban League Career Statistics
DOB: June 9, 1986; DOD: March 16, 2013 (Age 26)
CAREER TOTALS                    W-L       ERA       SO           BB           G             IN                 H             R             ER
2004 – 2013                           76-47     3.15       878         353         166         1005.2       929         436         364
Teams: Habana Province (2004-2010); Artemisa (2011-2013) Rookie of the Year 2004-2005; National Series Champion 2008-2009; League ERA Champion (2008-2009) and League strikeout leader 2011-2012) ; Note: Post-Season and Super League numbers also count in Cuban League career statistics.
Pedroso's international presence was also substantial over the past several summers. He was one of a handful of Cuban stars to appear on multiple World Baseball Classic teams, having debuted as a mere 19-year old in the inaugural 2006 Classic, on the heels of his stellar rookie National Series season with Habana Province.
The previous fall, Yadier had worn the Cuban colors for the first time during the Gold Medal triumph at the 2005 IBAF World Cup staged in The Netherlands, winning his only decision. He also performed on the 2008 silver-medal winning Beijing Olympic team (one appearance and no decisions) and the 2009 and 2011 IBAF World Cup squads.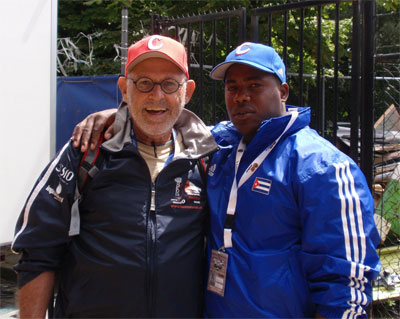 For this year's MLB Classic event in Japan Pedroso was a last-minute roster addition due to a shoulder injury that had plagued him in the early going of the current domestic season.
He was used only sparing by manager Victor Mesa, first appearing in relief in the first-round 12-0 drubbing of China in the Fukuoka Yahoo Dome; he worked 1.1 innings in relief of starter Danny Betancourt, yielding a single hit and a single walk.
A second outing during round two in Tokyo was less successful. During his final career appearance Yadier worked a shaky one-third of an inning, surrendering three hits, including a two-out two-run round-tripper by big leaguer Jonathan Schoop that was in the end the game-deciding base hit.
Yadir will long be remembered by this writer for two gutsy performances in particular.
The first came with the Cuba B squad in Rotterdam during the summer 2011 edition of the World Port tournament. The Cubans managed by Roger Machado had fallen into a deep hole with three early losses, yet had nonetheless managed to reach the finals largely on the strength of a brilliant eight-inning mound effort by Pedroso, highlighting a clutch 2-0 victory over the host Dutch club.
In the finals only two days later, Pedroso was again called upon (this time in relief) and held an undefeated Taiwan team in check for eight more innings; Cuba finally lost the title game only in the "Schiller Rule" tie-breaker-format tenth frame when an exhausted Pedroso was unable to cleanly field a high bouncer back to the box and the deciding tally scampered home from third.
The second truly memorable outing came with three late-game relief innings against Team USA during a hard-fought World Cup quarterfinal-round match in Santiago, Panama. With Cuba clinging to a late 8-6 lead in the see-saw affair, Pedroso earned the save after working the final three frames, surrendering a single run (on two hits), but striking out seven of the 11 batters faced. With his forkball as devastating as at any time in his career, Yadier struck out the side in the final dramatic inning to preserve the tense victory.
Pedroso was scheduled to return to action later this month for the second half of this year's experimental split-form National Series season – wearing the unaccustomed uniform of the Sancti Spíritus Gallos.
This year's unique split season format will have only eight squads moving on to pennant race Stage 2. Those surviving clubs have already drafted stars from the eight eliminated squads to fill out their own rosters for the final segments of the championship chase. As the first-half league leader, Sancti Spíritus owned the final pick in last month's nationally televised draft session, and manager Yovani Aragón was surprised to find Pedroso (the ace of last-place Artemisa) still available.
The earliest picks had all featured star sluggers like Alfredo Despaigne, Alexei Bell, Joan Carlos Pedroso, William Luis Campillo, Yordan Mandulay and Ernesto Molinet. It seemed at the time of last month's dispersal draft that the windfall selection of Yadier by the already pitching-rich Gallos was most likely enough to clinch this season's championship banner for Sancti Spíritus. That scenario has now been severely altered.
There is a special personal sadness about this loss that impacts especially on this writer. Put bluntly and directly, Yadier Pedroso has for the past five years been a close personal friend and not merely one of the numerous Cuban ballplayers I have been privileged to write about.
Last Tuesday afternoon (only hours before the team returned to Havana) I spent several hours in a Tokyo Dome hotel room shared by Freddie Cepeda and Yosvani Peraza, and Yadier was in that room with us.
The four of us talked at length about the players' collective and personal pain over once again failing in the final round-two game (similar to four years ago in San Diego) and therefore once again coming up short after such a dedicated and lengthy effort to get back into the WBC finals.
At the moment that loss to the Dutch the previous evening was all consuming and it was difficult for them and for me to put the disappointing event behind us. But in the end we all agreed there was much baseball still to be played back on the island, also that baseball is still only baseball, and that life indeed would now go on.
But for Yadier, tragically, it would not. And therein lies a most profound lesson.
There was much sadness spread across Cuba by a recent Monday night loss to the Dutch ball club – an on-field defeat that sabotaged a World Baseball Classic "dream" and thus robbed Team Cuba of a chance to play this weekend in San Francisco.
But now the final days in Tokyo have forever taken on another far more deep and sad irony. Had this year's WBC Cuban club managed to win that crucial final match it would have meant among other things that Yadier Pedroso and his teammates would have been safely lodged in San Francisco last night.
Yadier would not have been on the highway outside Artemisa and such a promising young life would not have been snuffed out in its prime. Such are the mysterious twists and turns of the lives we all live.
Once again we must all pause, and refocus, and remember that the loss last night in Artemisa was far greater and far more significant than that momentary defeat earlier in the week in Tokyo.
Our prayers today can only be with Yadier, and with his family teammates. Baseball defeats sometimes linger but they eventually fade with the presence of inevitable new challenges on the field of play. But the loss suffered last night is one that will remain with some of us forever.
—–
(*) Peter Bjarkman is author of A History of Cuban Baseball, 1864-2006 (McFarland, 2007) and is widely recognized as a leading authority on Cuban baseball, past and present. He has reported on Cuban League action and the Cuban national team as senior writer for www.BaseballdeCuba.com during the past six-plus years and is currently writing a book on the history of Cuba's post-revolution national team.