The Value of Voting NO in the Feb. 24 Referendum in Cuba
Yasser Castellanos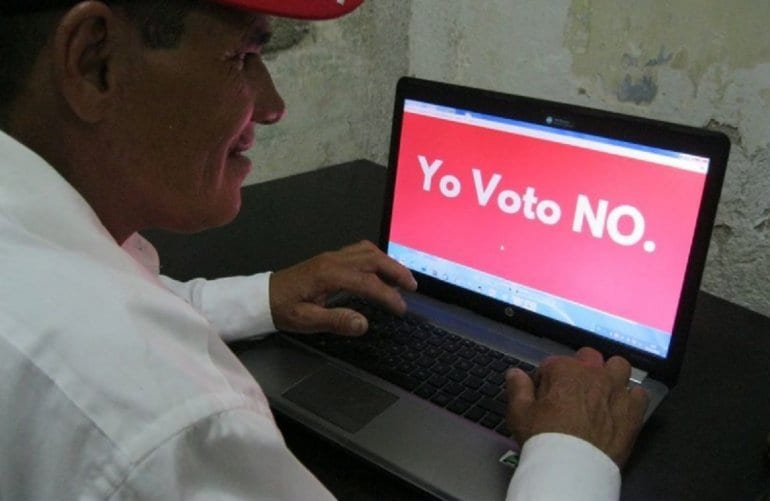 HAVANA TIMES – Even though I normally express myself with images, this time I want to give my (written) opinion about the debate surrounding the upcoming constitutional referendum on February 24th.
I am one of those people advocating for voting NO on the ballot paper.
It's in our nature to constantly chase after our wellbeing, and we can make pretty good moves towards it as well as being led astray. One of the things that makes us different is the path that we choose to reach this.
In a way, the sum of these paths chosen by Cubans has been shaping our nation. However, the final result doesn't seem to be satisfying most people's needs.
It's hard for those of us who are chasing after a better Cuba to agree on what is the best path towards doing this.
If the population were to refuse to take part in the vote en masse, it could be a crushing blow to the appearances of conformity that our Government is trying so hard to uphold. Nevertheless, it's hard to believe that this will happen given today's situation.
A high percentage of Cubans still feel like they need to go to the polls. Not sticking to the script that has been written out for us ultimately leads to punishment and this fact has been drilled into us for decades.
That's why I think people feeling they can express their disagreement with this new Constitution (which doesn't provide the solutions they've been longing for to their old problems), and protected by a secret vote, is more realistic.
By the way, I encourage voters to take their own pens. I don't believe a serious vote can be cast in pencil.
If a significant number of Cubans were to vote NO, it won't be enough of course, but it will still be an unprecedented event here in our country.
It would be very valuable if people write what they really think on paper and then comment on it in safe circles, or even in public spaces, if they are more daring. So that those responsible for counting these votes can verify this desire captured in two letters. It would inspire more respect than the obscenities that some people normally put on ballot papers in protest, or so I've been told.
These small events will also contribute to changing the way we conceive Cuba.
I don't see the solution to all our problems in voting NO, but it is an opportunity for us to practice something healthy and, therefore, necessary: reclaiming our responsibility in the country's evolution and becoming aware that the Government isn't who decides the Cuban people's fate. We are the ones who decide, always. Whether we take decisive or indifferent action.
There is too much to rebuild around us, but we first need to fix our mindsets so we can get up out of this dark corner.
There are more and more of us doing this every day. We are living an extraordinary moment in our history. We are beginning to wake up from our slumber.