Thinking of the Almighty $
Rosa Martinez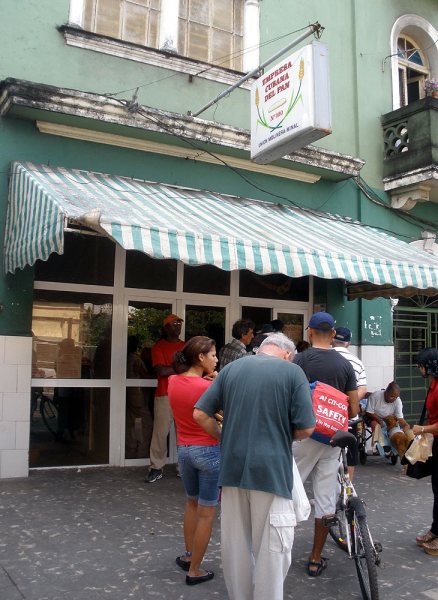 HAVANA TIMES, Nov. 15 — Payday is a joyous day for many people.  The money received for a month of work gives them a little sense of well-being.
As for me, though, I get in a bad mood whenever I pick up my pay.  I get irritated thinking only about the thousand and one expenses that I have to cover so that nothing indispensable is left out.
A few days ago I was joking about this very same thing with an Italian friend who lived in Cuba for five years.
My friend Paolo responded telling me that Cubans attach too much importance to money.
"I know that the wages in Cuba aren't enough," he told me, "but at least you have things here that can't be compared with what we have in my country."  He mentioned the facts that education and health care are free.
Specifically, he gave the example of a medical exam that ended up costing him about 300 euros in Italy, because if he'd waited for the government to provide the service, he "probably would have been dead by the time he got it."
"Cubans shouldn't think so much of their idolized money, perhaps that way they'd be happier," he concluded.
If we hadn't been friends for so long and I didn't know how much he cared for me, his words would have irritated me more than my measly salary.  But I didn't allow myself to give in to my first impulse. Instead, I responded calmly.
"I think you're right, Paolo," I responded.  "We do think too much about money.  We spend a lot of time talking about the economic crisis, all the shortages, the poor economy, theft and graft.  Almost all conversations between Cubans end up like on one point: how bad things are!"
At that moment I even remembered the comments [in Spanish] made by readers German Castillo and Luismi de Sinope concerning my essay El sueño de una cubana (The Cuban Dream), and I felt anguish.
"I'm selfish," I said.  "I shouldn't complain so much.  I should be thankful for what I have had up to now, even though it's not enough," I responded to my friend.
"Paolo," I told him.  "Imagine that here in Cuba you had a nine-year-old girl who was in elementary school."
With that in mind, I'll ask you three simple questions:
Did your little girl ever miss classes because one of the soles of her shoes fell off?
Did your daughter ever ask you for a simple toy but couldn't get it because you didn't have enough money?
Have you ever had nightmares because you don't know what you'll have for your daughter to eat the next day?
"Yeah, Paolo," I continued, "Cubans do think too much about money."