Those of Us Who Stayed in Cuba
By Amrit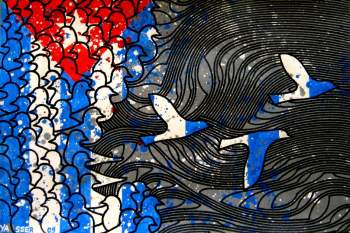 HAVANA TIMES, March 21 — In that spring of 1980, with the events at the Peruvian embassy in Havana and the mass exodus from the port at Mariel, my family too aspired to be part of that multitude of people who crammed onto boats almost to the point of their capsizing.
I only saw this melee many years later on "filtered" footage from some TV station in Miami that was circulated here from computer to computer.
The family's plan to leave was only mentioned behind closed doors since our mother had forbidden us to talk about it outside of the house. The reason for this we soon understood. We became witnesses to the confused and scandalous shouting of "Get out," "Worms," "You'd better leave!" as well as the smashing of eggs against the side of a nearby house.
As with so many events that have brushed my life with inexplicable lightness, I wasn't personally witness to anyone getting hit or humiliated, and the resonance of those screams have dissolved in the labyrinth of my memory.
Recently in one of those videos, I saw a woman who admits to still hearing the echoes of those screams in her head from when she was 16, almost 31 years in the past.
I was 14 during that convulsed April of 1980, and while that young woman was able to cross the mythical 90 miles in a yacht crammed more with strangers that with relatives, I — who never met her — was unknowingly included in an opposing statistic.
Among "those of us who stayed" were looks of mutual wariness and uncertainty as to whether we were missing out on something, whether we might have been making a mistake. As quickly as possible, young people took over the houses deserted by their owners (houses that were marked by the remnants of eggs on their facades), and these properties were sacked just as quickly, before immigration officials could confiscate them.
Among the jokes that circulated was the saying: "Whoever stays, turn off the lighthouse at the Morro Fortress." In that nightmare, when it seemed like Cuba was truly a sinking ship, many people continued to flee even though they had to cover their heads from insults and blows.
"Cuba is emptying out," said my frightened mother, who had already made one unsuccessful attempt at exile years before at the port in Camarioca, Matanzas (1965) with my sisters clutching her hands and me still kicking inside her stomach.
When I looked in the video at the faces of "those who left" I saw their tears and expressions. I felt a turning over in my chest, as if something were rotating to quell the anguish, an also inexplicable anguish. Did they leave, really? Did we manage to stay? I wondered, looking out the window toward the coast, where an agitated sea hides so many dead.
They are ghosts, who in silence have lined up to form a bridge (a link between Havana and the Miami of jokes from my childhood), a bridge of sighs and screams more powerful than political borders, ideological coercion or immigration agreements.
Like dazed victims of a war (also a ghost) I see us: "Those who left" and "those of us who stayed" – the two sides occupying reverse positions in front of a mirror. I see the face of the woman who's still terrified with the resonating scream of "Get out! You'd better leave!" and I recognize myself, because without ever leaving I've traveled in my dreams more times than her to the cities of that country. I go looking for my father, for my sister, while she has mentally reconstructed the contours of a Havana that she has lost in that black hole of time.
Meanwhile, in the stretch of water that extends across the old distance of 90 miles, a ghostly Miami emerges (once again) as the tinsel dream of the younger generation that never knew Mariel, or Camarioca, nor that trail of rafts in front of the Malecon in '94. However, they plan to leave "by whatever means," because they're not as romantic as we were. They seek strategies that are more individualistic, more ruthless.
—
Last year, on the 30th anniversary of the Mariel exodus, we published: "Mariel Boatlift Thirty Years After¨