Rosa Martinez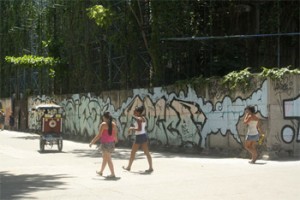 HAVANA TIMES — The post by the young student about new ways to woo a woman reminded me of something that happened to me some time ago.
It was a blistering hot day, like it usual is here in Guantanamo. So, exhausted by the burning temperature, my hunger and having worked all day, I was walking to the bodega (grocery store) when I ran into an overly insistent and annoying admirer.
I can't say if he was more insistent than annoying, I only know that this guy managed to bother me for three or four blocks. Nevertheless, in the end I was able to get him off of me.
I'll tell you how I did it.
"Ma-ma-siii-ta," he said. "My god you're fine girl. Don't you need a real man like me?
I was so tired I could hardly even listen to him. I just looked at the guy and walked on, without saying a word.
"Where do you live momma?" he bothered me again.
"Here in San Justo," I told him, coolly.
"San Justo is a large neighborhood. What part exactly?"
"Somewhere in San Justo. Please, leave me alone," I asked with a scowl.
"I can do everything in the house, and I can do anything for you. I'll give you whatever you ask for, just for those lips."
"My head hurts, just leave me alone," I shouted.
If I tried not to listen to him, all he would do was turn up his "smooth talk." Though he kept making his lewd allusions in his attempt to somehow "win me over," all he was doing was getting on my nerves that much more.
When I believed there was no escape and I'd have to keep listening to his tactless self, we passed a street vendor and I had an idea:
"Do you see those floor tiles that man's carrying?" I asked the guy.
"Yeah, what about 'em?" he replied.
"Nothing, No big deal," I said. "I just need 20 boxes of them. So if you buy them we can keep on talking."
To be honest, I didn't even realize when the deadbeat headed off in the opposite direction. If I hadn't felt so tired, I'm sure would have burst out laughing right then at him and my idea. Now I do just that whenever I think about the look on his face.