US Democrats Abandon Environment
By Dawn Gable (From the Democratic National Convention)
HAVANA TIMES — In three days of speeches by dozens of Congressmembers, governors, mayors, public figures, and carefully chosen members of the public the environment has been mentioned a grand total of one time.
What's more, it was not a Democrat who spoke up for Mother Earth either. Instead it was the only Independent governor in the country, Lincoln Chafee of Rhode Island.
Chafee explained that he used to be a Republican but that the party had morphed into something unrecognizable to him. He listed the values of real conservatives and assured that he and Obama "believe in environmental stewardship – protecting our air and our water. Because despite what big business and this Republican Party would have you believe, destroying these precious resources will cost us far more in the future than preserving them now."
That was it. Mother Earth's less than 15 seconds of fame at the Democratic National Convention  exactly two decades after Vice President Al Gore wrote the book Earth In The Balance.
Conversely, the biggest air pollutor in the US was the star of the show… the automobile.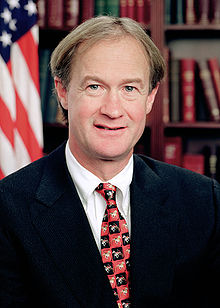 A decade ago, the Union of Concerned Scientists had this to say: "Transportation is the largest single source of air pollution in the United States. It causes over half of the carbon monoxide, over a third of the nitrogen oxides, and almost a quarter of the hydrocarbons in our atmosphere in 2006.¹ With the number of vehicles on the road and the number of vehicle miles traveled escalating rapidly, we are on the fast lane to smoggy skies and dirty air."
While Governor O'Malley of Maryland led the audience last night in a "forward; not back" call-and-response bit, he, like nearly every other speaker, praised the Obama administration for saving the auto industry.
Apparently, the Democratic Party now considers the idea of transitioning to a more sustainable lifes way to be "old-school" and proping up a moribund and toxic industry to be moving forward.
The vision being peddled is the short-term jobs rescued vs. the long term health of the organism that sustains life itself. No wonder the good governor of Rhode Island is remaining Independent of both Parties.