Vote NO in Cuba's Constitutional Referendum
Haroldo Dilla Alfonso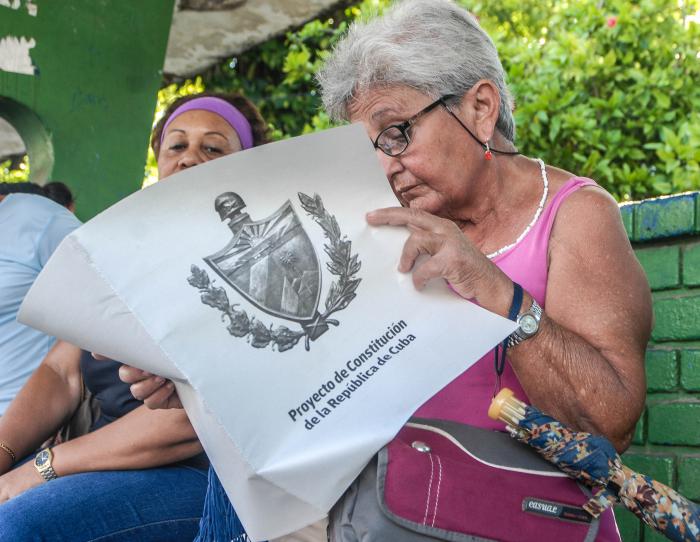 HAVANA TIMES – If time has ever taught us anything, it's to appreciate subtleties. The draft Constitution, which the Cuban government is pushing forward, is full of these.
There's no doubt that this draft involves more than one positive thing, when it comes to giving a legal framework to the country's government. Let's say that it does open up a greater space in national life for different forms of property, which is a basic requirement (although not enough alone) for freedom and democracy, it is proposing decentralized changes for the political and administrative system and it is opening up new spaces so that minority groups have their rights recognized, like what is happening in the case of same-sex marriage.
It's an incomplete document, but it's enough to notice its streak of positive changes and to understand that many Cubans (both on and off the island) are willing to give their opinions and suggestions to a committee that is responsible for drawing up the final draft. This is what they mistakingly call "public debate".
How people should vote in this referendum is a different issue, which only Cubans living on the island have the right to do. In this case, I believe voting NO is the only reasonable way to vote. Because, even though it does include the above-mentioned positive streaks of change, the Constitution still holds onto several negative cornerstones which do away with any ounce of democracy and freedom in Cuba and stand in the way of national society's development. And meanwhile, they lead to serious exclusions of social and political groups.
The first of these cornerstones is definitely holding onto the monocentric political system that is the Cuban Communist Party and its undisputed power. Cuban society is complex and diverse, and that's why so many different political options exist, and they should all have the right to compete for power and to transform their agendas into public policies. We don't know how much popular support the Cuban Communist Party actually has today.
It's possible that in a system without any allowed competition and as depoliticized like the Cuban one is, a large part of the population continues to believe that it is the best option. However, that's not what's important here: if only 1% want something else, this tiny group has the right to organize and participate.
Secondly, the changes that are being put forward with regard to emigrants are absurd and the Cuban State continues to be hostile towards the emigre community, who are only viewed as the providers of remittances. Cuban society is international and the emigre community should be granted civil and political rights, just like most Latin American countries have done. This is another excluding factor which leaves out 15% of the national population.
Thirdly, people's rights continue to be limited to those who are members of the party. A serious problem two-fold. First of all, because civil rights don't exist because someone wants something or something else, but because they are inseparable to their very being, like the Dominican friars clarified in Salamanca. And secondly, because nobody in Cuba is more anti-socialist than the ruling elite itself, because socialism, is first and foremost, the socialization of power.
Finally, the electoral system will continue to be subjected to second-rate votes, which prevent direct suffrage and force people to vote for single candidates. If this doesn't change, the perpetuation of the elite will continue to be accepted by "arbitrary" authoritarian laws without any political alternatives for real change.
I repeat: vote NO. Not because you think that it is going to change our country's path. Most Cubans (without any real, exhaustive and traditional debate) will vote YES. And the government will do everything in its power for this to happen, including electoral fraud if necessary.
However, if the NO vote were to gain substantial support (it's likely that other social groups will vote negatively and without any praiseworthy proposals, like the Evangelicals if the same-sex marriage clause remains), this would be an unprecedented sign in these quasi-unanimous times. And the idea of voting NO, in the above-mentioned terms, would allow opposition groups and reformists to agree on an important point.
Quite frankly, it's a political opportunity.