A Concert with Cuba's Polito Ibanez
By Irina Echarry, photos: Caridad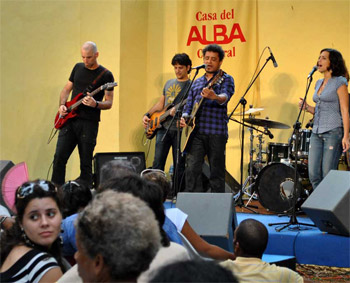 HAVANA TIMES, Sept. 14 — People were able to hear singer-songwriter Polito Ibañez not only live, but free and without all the usual concert turmoil.   He performed at the Alba House on Saturday, September 10, as rain threatened to fall.
The author of Recuento, Para no pensar, Axilas and Sombras Amarillas shared his words and music with us.  His appearance took place within the framework of the Ania Pino Memorial Young Television Journalist Competition.
The promotion of the concert was handled by the Canal Havana television station (no other media announced it), and although the schedule was changed (on TV they said it would start at 5 p.m., though the Alba's Cultural House scheduled if for 6:30 p.m.), the public patiently waited.
It's always pleasing to hear this important trova musician's melodious voice, one which stands out for his honesty and simplicity.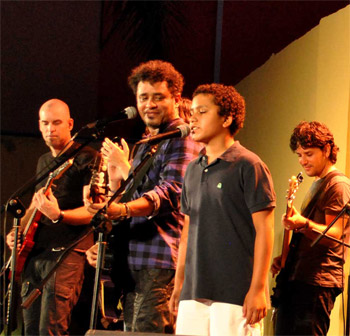 He began by saying: "I'd like to do requests" and these he read, without glasses and with little light, as he received those requests from the audience and began singing ones like: "Somos numeros," "Gente comun o la moda" (with a more modern arrangement) and "Mentalidad de surfing," which he sang along with Simon Ibañez, his son.
Ania Pino was a journalist who died very young and tragically.  Those who knew her assured that she was a very good person in addition to being quite talented. Polito, her friend, dedicated his emblematic song "Recuento" to her.
A touching moment was when in his duet, with Alejandro Falcon on piano, they gave us "Evocaciones," a beautiful song that some believe is a romantic ballad while others find mystical and spiritual connotations in its verses:  "Where are you?  What mysteries do you bring to me when I call your name?  When will you come to save me for once and for all?"
Although Polito is not characterized by a flowing dialogue with the audience who come to hear him, his kindness, his positive energy, and his lyrical and reflexive words create harmony. On this occasion the audience, for the most part youth, hummed his songs and the rain disappeared for good.
Nothing could break the magic spell of the afternoon when he told us the "simple things that fill me."

Click on the thumbnails below to view all the photos in this gallery. On your PC or laptop, you can use the directional arrows on the keyboard to move within the gallery. On cell phones use the keys on the screen.