Photo Feature by Irina Echarry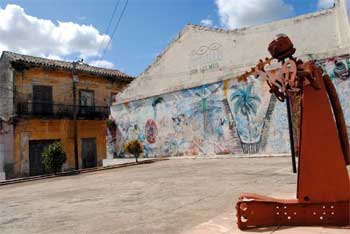 HAVANA TIMES — When I was invited to Madruga, a town in nearby Mayabeque Province, the first thing I did was grab my camera.
My walk through the town — half rural and half urban — lasted just an hour and a half, but in that short time I was able to visit the village during the evening and night, admire its straight streets, see its large extended houses, check out the acoustics of the park's arbor and breathe the pure air of the Loma de La Gloria incline.
That night that I slept in Madruga I remember as the most peaceful in recent years, since the corner near my building in Havana is always crowded with cars, buses and trucks. Waking up with the singing of birds was almost magical. For a moment I forgot about my life in the city and I reaffirmed my desire to go live in the country.
Here, I'm leaving with you photos of my walk through this place of quiet and industrious people, where bicycles and horse-drawn carriages are the most widely used forms of transportation.

Click on the thumbnails below to view all the photos in this gallery. On your PC or laptop, you can use the directional arrows on the keyboard to move within the gallery. On cell phones use the keys on the screen.