Regina Cano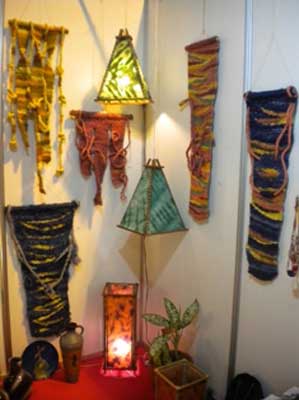 HAVANA TIMES — The now traditional Mother's Day Art Fair was held here in Havana — this time at the Pabexpo Center — with a surprisingly increased level of artistic and professional diversity achieved by Cuban craftspeople, artists and creators.
These are makers of semi-durable goods and trinkets, as well as items made for the pleasure of observing and for everyday use.
It's likely that because of this being a smaller exhibit — by this I mean there was less of a selection of goods than the FIART festival, an annual arts and crafts fair held in the same place — one could better appreciate the work there.
This time the selection of furniture, shoes, handbags, textiles, ceramics, and outdoor metal works decoration (also because of the sizes of those works) exceeded the expectations of the people with whom I spoke.
There were also those artists specializing in small items created with fine taste and finishes, all worth viewing.
I would venture to say that what goes beyond the desire to possess beautiful objects is the need to consume them, also taking into account how useful they can be. Perhaps this is to compensate for the memory of previous shortages or the lesser or not so beautiful items sold in the craft fairs that are held every day.
What could also be noted was that the vast majority of the wares were selling for lower prices (between $1 and $10 USD).
And like in an unaffordable gallery, most people didn't ask about articles of greater value, for which there is a market. And there are some people who make sacrifices to be able to purchase mid-priced items, and these days Cubans aren't surprised to see prices ranging from $15 to $100.
For now, people!, things seemed to be a big success for buyers and sellers in the recently concluded "Fair for Mom," which made me sense that many mothers were satisfied with the gifts chosen for them by their family members.

Click on the thumbnails below to view all the photos in this gallery. On your PC or laptop, you can use the directional arrows on the keyboard to move within the gallery. On cell phones use the keys on the screen.