Backflow: An Artistic Vision of Water & Movement
By Irina Echarry, photos: Caridad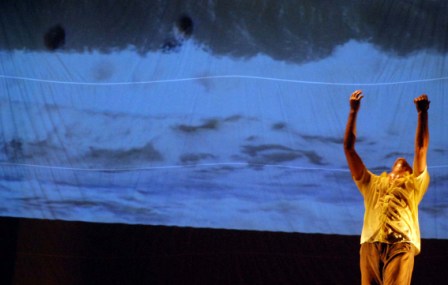 HAVANA TIMES, Oct. 21 – Cuba: a country surrounded by water. Holland: half of its territory below sea level.  Two countries defined by water.  The two cultures connected by the same water: the water that divides and the water that unites.
Dutch artists from the Waterproof troupe have crossed the ocean and united with Cuban dancers from the group Retazos for a unique vision of water illuminated by both cultures.
Together they provide a vision of water in movement, of its sound, its sensation, lightly rippling, daintily lapping.  The sensation of a drop on one's skin or of one's feet on wet sand.  Undulation, churning, splashing. Irresistible, overwhelming, formidable.
"Backflow" transmits a sense of marvel from something as simple as water.  The presentation creates a new vision.  It involves all our senses through the poetry of sound and sight.
It is the confluence of film, image, dance and live music, all centered on the theme of water.  It is a dynamic creation with moments of calm beauty alternating with moments of passion – and even humor.
The photos presented here are from the performance of Waterproof and Retazos at the headquarters of the Cuban group in Old Havana on Aguiar Street on October l4 during a Dutch culture week in Havana.