Baseball/Cuba: Industriales & Cienfuegos
Photo Feature by Elio Delgado Valdes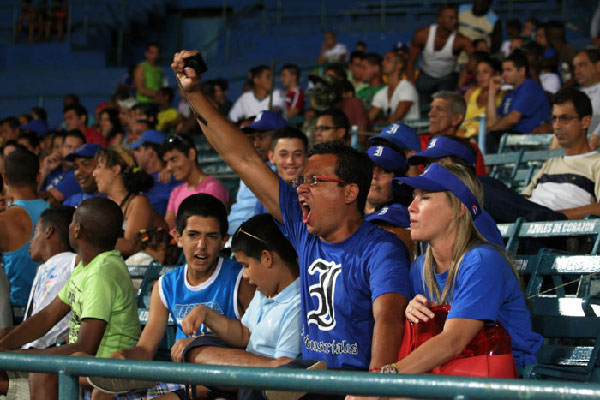 HAVANA TIMES — The second half of the Cuban baseball season is well underway and Cienfuegos has moved into the top spot among the eight competing teams. HT was on hand recently for the final game of a three-game series with Havana's Industriales hosting Cienfuegos.
The series proved disastrous for the home team which was swept by scores of 15-12, 6-1 and 7-6 on the final day in a game won by Yormani Socarrás with a save from Duniel Ibarra.  Yudier Rodríguez took the loss for Industriales.
The current 2012-2013 season continues until May 22, after which the playoffs will begin.
STANDINGS (including the games of April 13, 2013)
TEAMS                               W           L              Pct.        GB                                                
Cienfuegos                        38           19           .667       —
Sancti Spiritus                   36           21           .632       2.0
Matanzas                           35           22           .614       3.0
Industriales                       32           26           .552       6.5
Isla de la Juventud          32           27           .542       7.0
Ciego de Avila                   30           26           .536       7.5
Villa Clara                           30           27           .526       8.0
Pinar del Rio                      30           29           .508       9.0
Click on the thumbnails below to view all the photos in this gallery. On your PC or laptop, you can use the directional arrows on the keyboard to move within the gallery. On cell phones use the keys on the screen.