Carnival Time in Santiago de Cuba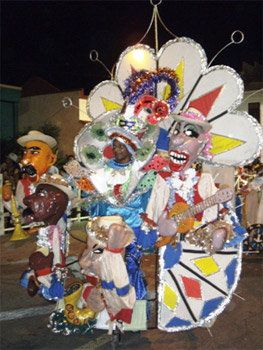 Photo Feature by Janis Hernandez
HAVANA TIMES – The Santiago carnival, is undoubtedly the most important traditional and awaited event every year by the residents of the eastern Cuban city. The celebration takes place in the second half of July, and for over a week immerses the population in a festive atmosphere.
The streets are adorned with totems that at night exhibit their beautiful contrasts of light and color. Creole meals are delighting any palate. The lavish floats and their extras, invite everyone to dance to traditional or trendy rhythms.
But without a doubt the designs and choreography of the dance troupes and their parades are the main attractions. The walking masks display characters representative of these centennial celebrations. The man on horse, death in leather, daubs, devils, caperos, pendoneros and many others, entertain young and old.
This modest photo report shows some images of this unique carnival, the most popular of all in Cuba, which years ago was considered on the par with the carnival in Rio de Janeiro or Venice for its excellent presentations and originality.
Without the resources of wealthier countries, the joy, the imagery and the charisma of Santiago still make the carnival the best and most liked of the island.

Click on the thumbnails below to view all the photos in this gallery. On your PC or laptop, you can use the directional arrows on the keyboard to move within the gallery. On cell phones use the keys on the screen.