Celebrating Alicia Alonso's 90th
Photo Feature by Elio Delgado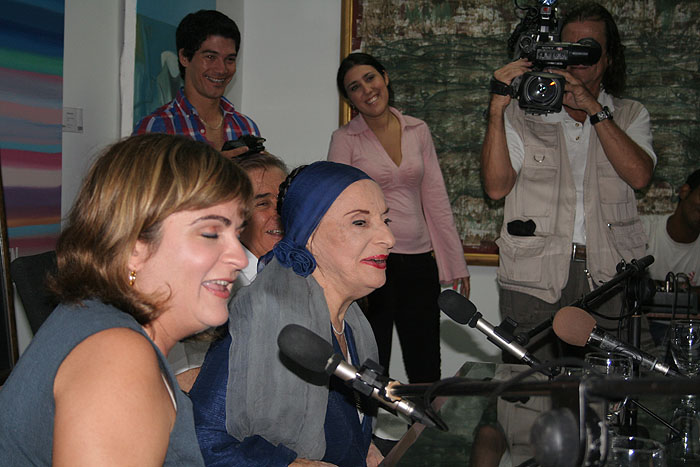 HAVANA TIMES, Oct. 28 — As part of the Celebration of Cuban Culture and activities to honor the 90 years of life of the great Cuban ballerina Alicia Alonso, last week a special get together was held at Pavilion Cuba in Havana with this arts legend along with youth from the Asociacion Hermanos Saiz (AHS), as well as with others participants who were not so young.
It was an easy going conversation in which Alonso recounted passages of her life in ballet. She recalled the day that Fidel Castro told her that ballet had the unconditional support of the Revolution; she spoke about the tours of the dance troupe throughout the country during the first years of the Revolution, and how tenacious she's had to be to achieve her objectives.
She also shared a story about a conversation she had in Venezuela with one of Cuba's most famous authors: Alejo Carpentier. He told her that he found himself with an indigenous couple on a tour, and nothing that he showed them produced the desired effect. That night he took them to see her in "Swan Lake," and then —in the middle of the night— he heard some noise coming from his guests room. When he went to see what was going on he found them there dancing that ballet. This and other anecdotes were told by Alicia in this encounter with young people.
She answered questions related to the gradual loss of her vision. Alicia said that she was so methodical in her dancing that she left nothing to improvisation, and that this was the key to her having been able to dance a little longer.
Something not on the program was the visit by famed Cuban singer Omara Portuondo, who was welcomed with approval by all those present – and even more so when Alicia requested that she sing. In short, that afternoon will be remembered as an extra pleasant one.

Click on the tumbnails below to view all the photos in this gallery