Che Guevara in Santa Clara, Cuba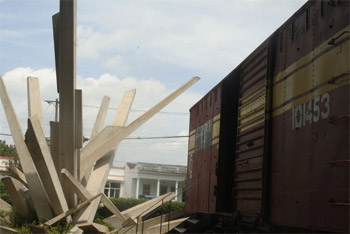 Photo Feature by Elio Delgado Valdes
HAVANA TIMES — One of the decisive actions of the 1959 Cuban Revolution was the Battle of Santa Clara, led by Che Guevara, in the capital of the province of Las Villas, in central Cuba.
Batista's forces had in that city a total of some 3000 men including regular army troops, police, rural guard and motorized troops .
They were equipped with 10 tanks, 12 armored cars, light and heavy machine guns, bazookas, mortars and abundant munitions for all those weapons and air support.
The Rebel Army, commanded by Che, had for that battle, only 300 men, with a high fighting spirit, something lacking in the troops of Batista.
This photo essay shows the Armored Train Monument and some of the places where the rebels fought, as well as the monument to the Argentine-Cuban guerrilla located next to the museum dedicated to him and the mausoleum where his remains and those of the guerrillas who died with him nine years later in Bolivia are kept.

Click on the thumbnails below to view all the photos in this gallery. On your PC or laptop, you can use the directional arrows on the keyboard to move within the gallery. On cell phones use the keys on the screen.