Concert in Cuba to Support Venezuela
Photo Feature by Luis Enrique Gonzalez and Ernesto Gonzalez Diaz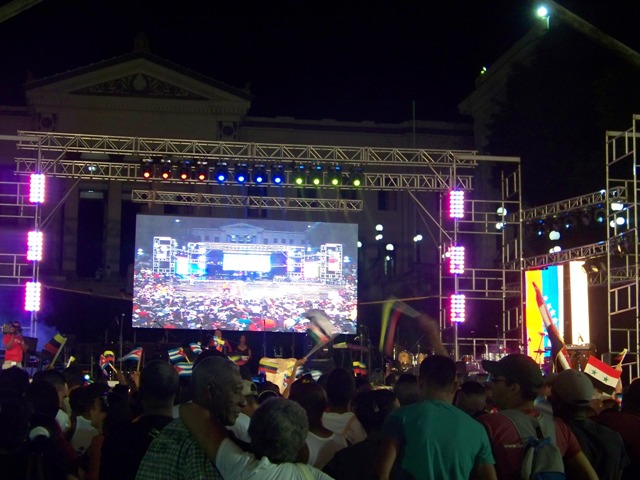 HAVANA TIMES — Sunday evening March 15, at the steps of the University of Havana, a concert took place in solidarity with the people and government of Venezuela, currently involved in a diplomatic conflict with the United States.
The concert was widely publicized by the local media but did not draw the audience expected, especially among the youth.
Amid flags from Venezuela, Syria, Palestine, Mexico, Nicaragua, South Africa, Cuba and others, and lights and large video screens, the event began with speeches from the president of the Federation of University Students, Yosvani Montano, and Cuban Five member Rene Gonzalez, followed by a long boring speech from Ali Gonzalez Araque, the Venezuelan ambassador to Cuba.
Then the concert itself got underway with the music of Raúl Torres, Pepe Ordas and the National Art School (ENA) band.
Click on the thumbnails below to view all the photos in this gallery. On your PC or laptop, you can use the directional arrows on the keyboard to move within the gallery. On cell phones use the keys on the screen.