Cuba Baseball: Industriales vs. Santiago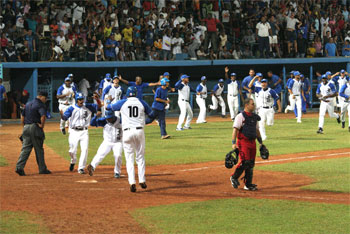 Photo feature by Elio Delgado Valdés
HAVANA TIMES — Probably the biggest rivalry of Cuban baseball are the series between Havana's Industriales and Santiago de Cuba. HT was at the first of a three game series in the capital swept by the home team.
After having contained the batters of Industrialists through the eighth inning, in the ninth — with the game 2 and 0  in favor of Santiago de Cuba, and with two outs — the capital city's Blues scored three runs for a dramatic win in the first game of a three-game series against Santiago.
Irait Chirino connected the winning hit for Industriales. This photo essay chronicles the contest that took place last Tuesday night.

Click on the thumbnails below to view all the photos in this gallery. On your PC or laptop, you can use the directional arrows on the keyboard to move within the gallery. On cell phones use the keys on the screen.