Cuba Photo Contest Winners for 2016
By Circles Robinson
HAVANA TIMES — The 8th Havana Times Cuba Photo Contest has finally come to a conclusion after the very difficult selection work carried out by the 20-member jury living in 9 countries.
After 9+ months of receiving submissions, the jury began reviewing the 1,503 pictures for the six categories in early October. The judging process was done in four rounds of selection over the course of a month.
Throughout the coming year we will be featuring many of the photos submitted on the website and on our Facebook page.
*We are open to suggestions for the contest categories for the 2017 event which we hope to have ready to announce by sometime in January.   Please send them in to: [email protected].
Families
Prize Winner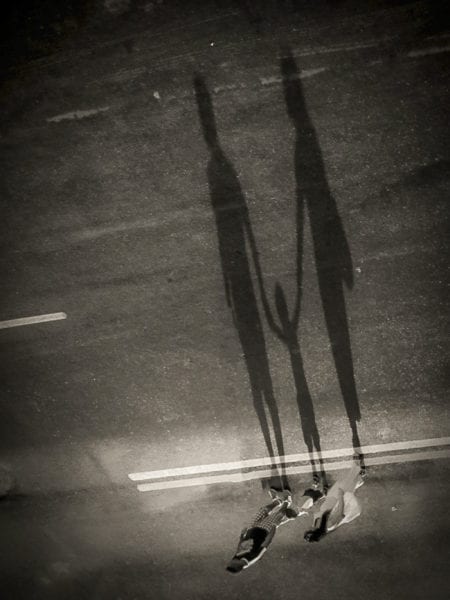 "My Great Family": The importance of the love and affection of grandparents, aunts and uncles and the rest of the family is known to all, but children need above all the presence and guidance of their parents. Parents sharing their time, walks, games, conversations, provide an indispensable and constant support that children will perceive in a lasting way the rest of their lives. Let this simple picture come to all as an example of a united family, because for children, even if the family is not very numerous, they will always be their great family. – Yaniel Tolentino, Havana
Special Mention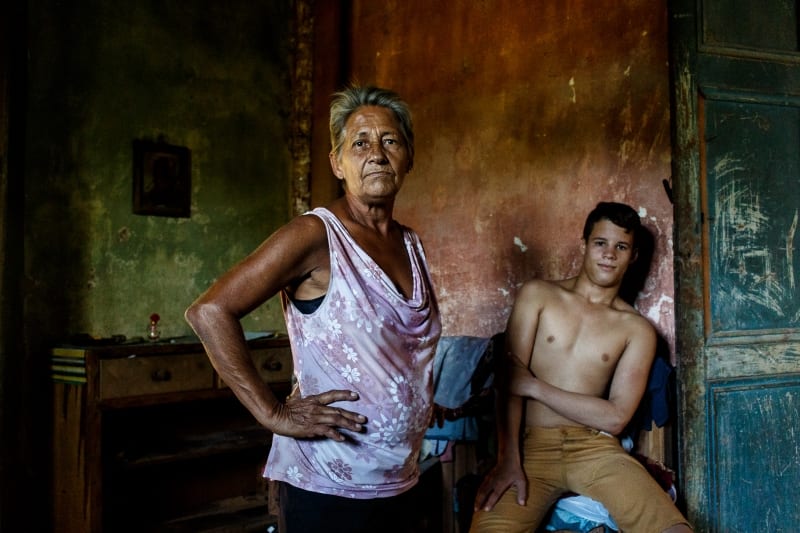 This photograph was taken in Trinidad. Mayra lives alone in an old hacienda. On that day her grandson was visiting; he is 15 years old and very shy. Dona Mayra kindly invited us to her house to have a coffee and talk with them. I am a Mexican industrial designer, in love with photography and I am 24 years old. – Maria Mercedes Rocher MacGregor
Cuban Inventions
Prize Winner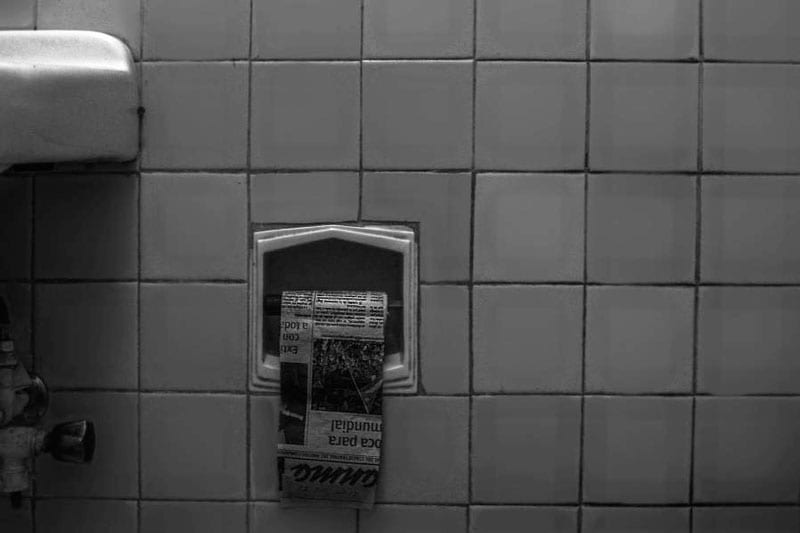 Cubans are inventors by nature, witty and with a good sense of humor, including double meanings. In addition, we like receiving news and also the gossip. In search of this objective you can see groups on the corners talking about the latest events.  This recycling invention shows how the news even makes it into the bathrooms. My name is Alejandro (Sacha) and I live in Havana. I have been an amateur photographer since I was a child and I always walk camera in hand capturing details of our city and its daily life.  – Alejandro Arce
Special Mention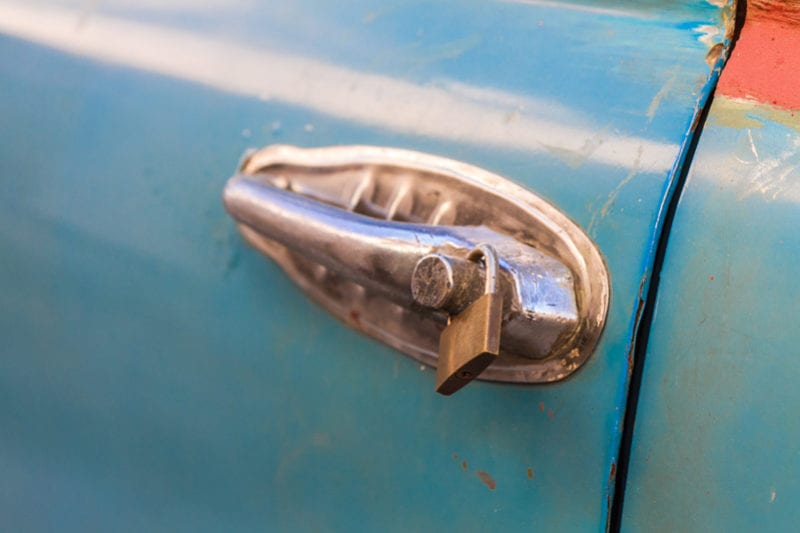 Key Hole– one works just as good as the next, sometimes you just got to find one that works for your door.  In Havana and across Cuba 'necessity is the mother of all invention' and prized possessions, in this case a jalopy awaiting future repair, needs every part you got.  So a little ingenuity will keep your stuff under lock and key. – Branson Q., a US citizen living in Manchuria.
Machismo
Prize Winner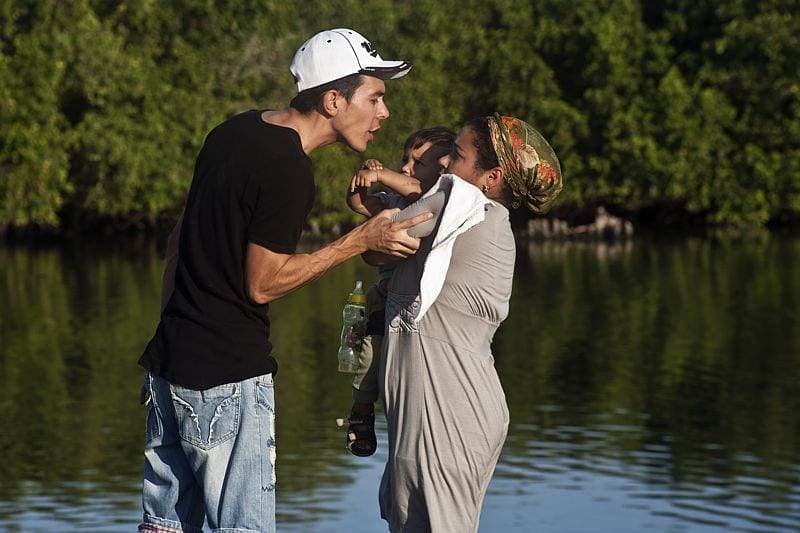 The maximum expression of machismo is the physical aggression of men towards women (the mother), and the selfishness and arrogance of adults, especially with the children of the family. – Jaime Prendes, photographer from the Isla de la Juventud.
Special Mention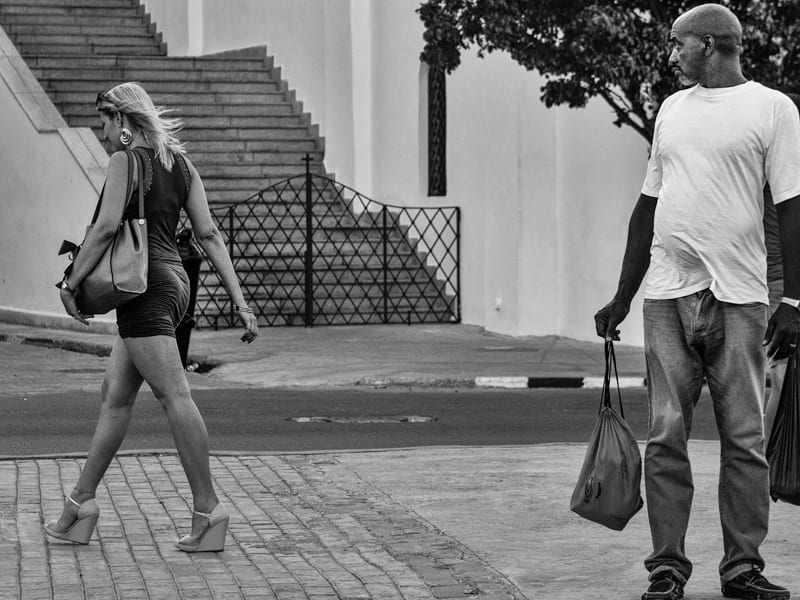 As I disembarked from the Regla ferry in Havana Vieja, this machismo moment occurred. This striking woman was a passenger, dressed for a night on the town.  An aspiring documentary photographer, I live in Washington State, USA. I will make my third trip to Cuba this winter, and am especially interested in documenting the social impacts of Cuban entrepreneurialism.   –Alan Friedlob
Children
Prize Winner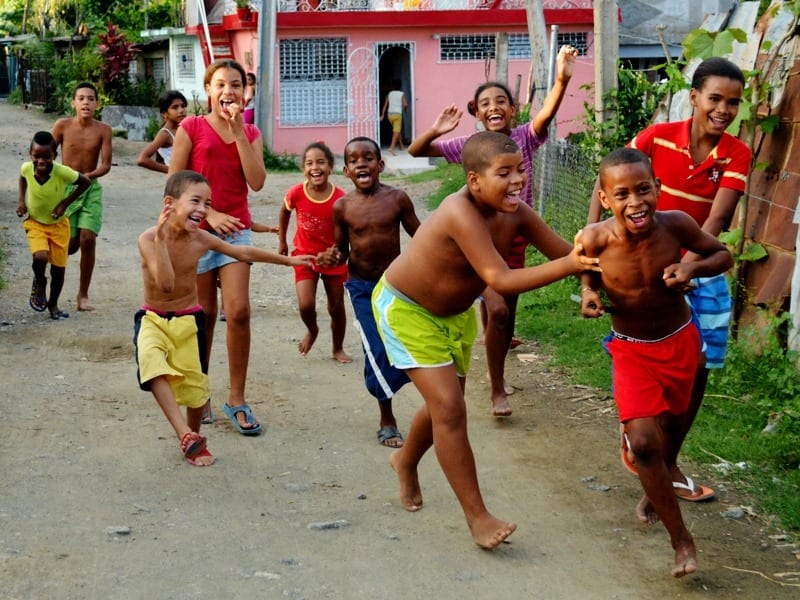 This "kids stampede" was captured in the town of El Caney, in Santiago de Cuba. Its members recreate in their game, in their way, the most incredible stories and the most fabulous adventures. Their economic limitations do not limit their spontaneous and contagious joy.
I graduated as an architect. I like photography a lot and while not having studied it, I have been fond of the art since 1998, first with an old digital camera (Sony Mavica) that directly recorded the photos on a floppy disc. In the last edition of this contest three of my photos made the second cut. – Alexander Coronado, Santiago de Cuba

Special Mention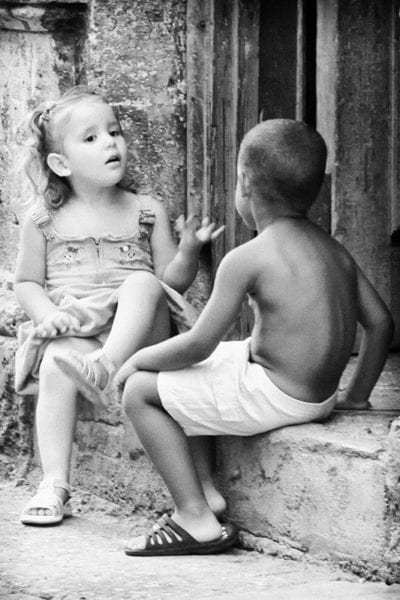 "Children's Affairs", the title of this work, is the result of such special moments captured when we enter the world of photography and we dream of taking in any rural or urban space. In fewer words, we see ourselves as hunters of moments. Without consciously establishing a contract with any concept, spontaneity becomes the only possible way of doing. – Dany del Pino
Landscapes
Prize Winner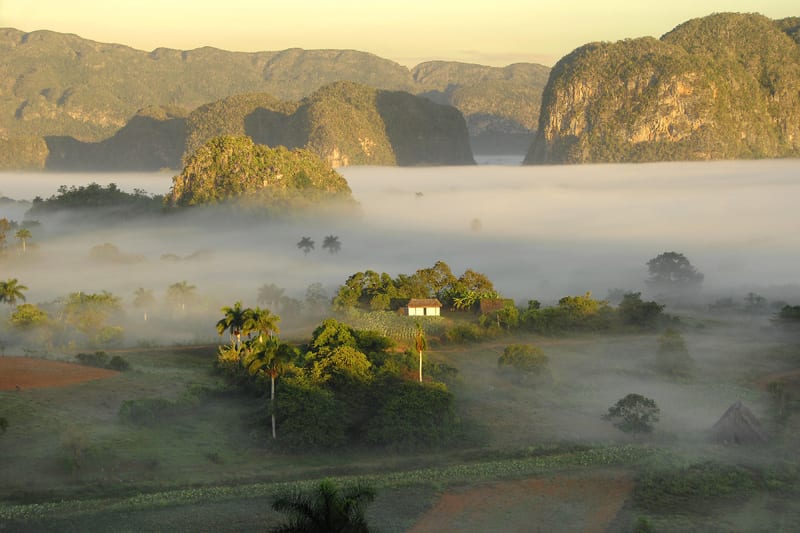 My image "Vinales Valley Sunrise" was taken early one morning on a ridge overlooking the Jurassic Park like Viñales Valley. Many foreign visitors to Cuba come to taste the Cuban culture see the old classic cars and see a place some have described as a step back in time. But at 1,250 kms long it is an island nation rich in ecological diversity a virtual mosaic of interconnected ecosystems from high rugged mountains to sunken valleys to tropical rainforests, swamps, arid plains, beaches and tropical coast lines. Once you get out of the big cities you will find it to be a land of beautiful and unique landscapes and natural beauty.   –Bill Klipp (Website: www.CubaPhotos.net)
Special Mention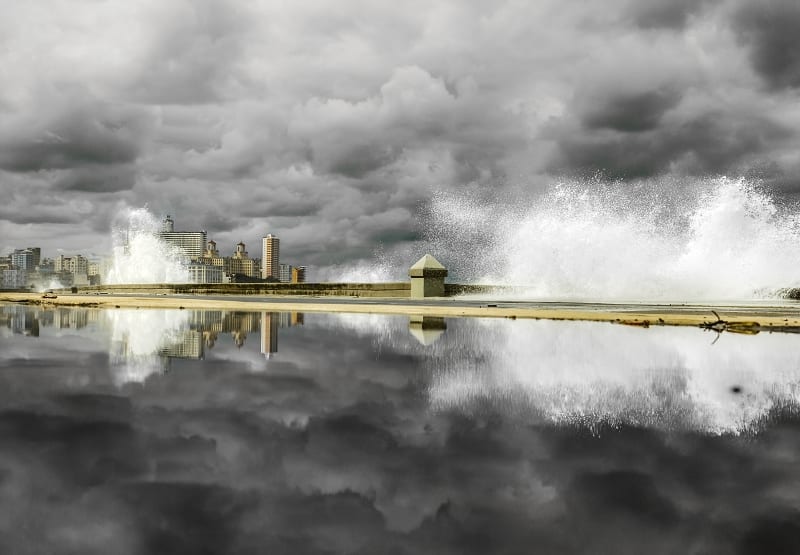 Storm in Havana: This picture was taken in a large puddle of water that days before formed from a strong sea surge that occurred last January. I had taken my camera and went looking for disaster photos and found this beautiful reflection of the Malecón sea wall landscape. –Yaniel Tolantino, Havana

STORIES
Prize Winner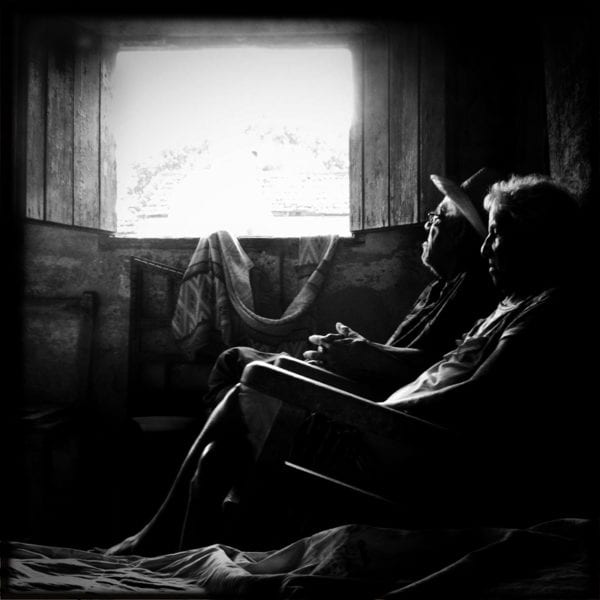 Click on the thumbnails below to view all the photos in this gallery. On your PC or laptop, you can use the directional arrows on the keyboard to move within the gallery. On cell phones use the keys on the screen.
"ALONE BUT NOT LONELY" – This series was photographed during several years, and it tells the romantic story of an elderly couple aged 90 and over. They sit side by side during most of the day alone, and abandoned. All they have left is each other. A few months ago during my recent visit to Trinidad the husband died and the wife was left alone.  – Felix Lupa, Israel
http://www.felixlupa.com/default_en.aspx  The Full Slideshow:  http://www.felixlupa.com/videogallery_en.aspx?id=239
Special Mention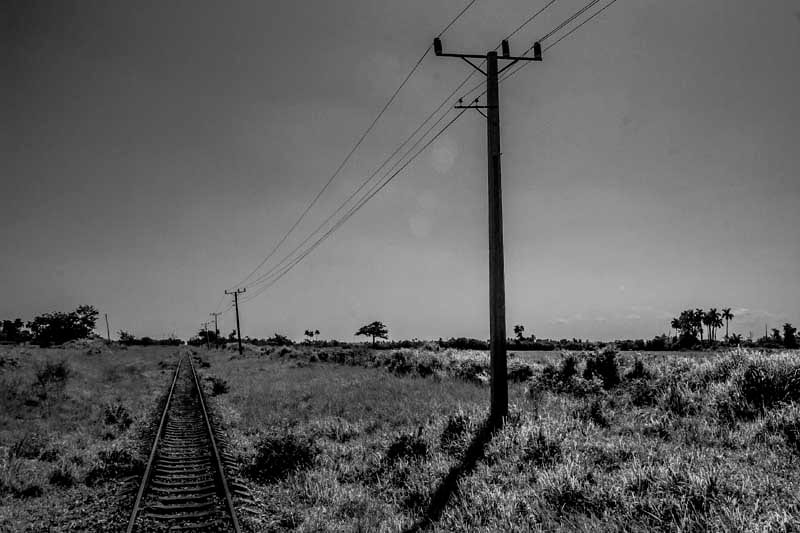 Click on the thumbnails below to view all the photos in this gallery. On your PC or laptop, you can use the directional arrows on the keyboard to move within the gallery. On cell phones use the keys on the screen.
"Los Trenes de Tablitas": This story is set on two different trains, the one of San Antonio de los Baños and the dormitory/workshop near Matanzas.  Neither of them is visited by tourists.  My impression as a visitor from another country was that they were like a mobile urban theater, where airs of nostalgia and a heavy hope that never seems to arrive. – Jorge Luis Santos García, (Venezuela / Spain), I live and work in Caracas and my personal photography centers on three fundamental subjects: spirituality, nature and sexuality.  www.jorgesantos.com.ve
Also see the contest finalists.