Cuban Landscapes:19th and 20th centuries
Photo Feature by Elio Delgado Valdés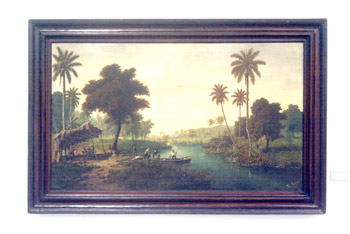 HAVANA TIMES — A sample of landscapes made in Cuba, from the nineteenth century to the present, is on display these days in Havana at various locations. The paintings were selected from collections from the National Museum of Fine Arts. In this photo feature we show the works on exhibition at the Hispano-American Cultural Center.
September 28-30 is the final weekend to see the works.
Olga Lopez Nunez, curator of the show, said that landscape painting had its peak in the second half of the nineteenth century, cultivated by Cuban artists and foreigners who came to the island fascinated by the exuberance of our nature and the beauty of our cities born by the sea.
Works by Federico Amérigo, Esteban Chartrand, Valentin Sanz Carta, Leopoldo Romañach, Armando García Menocal, Domingo Ramos, Fidelio Ponce, Victor Manuel Garcia, Mariano Rodriguez, Tomas Sanchez and Rene Portocarrero, among others, are on display in this exhibition.

Click on the thumbnails below to view all the photos in this gallery. On your PC or laptop, you can use the directional arrows on the keyboard to move within the gallery. On cell phones use the keys on the screen.