Cuban Painter Maykel Herrera's Exhibition: "Truth Seems a Fable"
Text and Photos by Irina Echarry 
HAVANA TIMES, March 24 — Word had spread by word of mouth, and only those people who were there that Friday afternoon on March 16 at Cathedral Square could believe what they saw. The famous painter Maykel Herrera inaugurated his exhibit "Verdad parece un cuento" (Truth Seems like a Fable) under the anxious looks of throngs of people.
The news had been announced on television: Maykel would be giving a gift to each member of the public.
Inside the gallery, the artist then repeated that statement and the revelry was tumultuous. Hundreds of people began pushing, first to leave (because the painter preferred to give the gifts outside the gallery), and then to receive from the artist's hands a drawing, a sketch or anything with his signature.
As usually occurs when people's attention focuses on a single point, many people left unsatisfied. There were comments about how unruly we tend to be and about the painter's yearning for importance.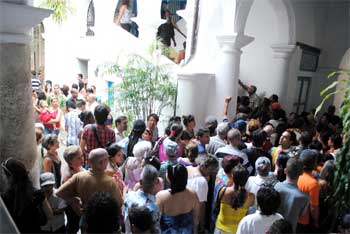 Starting that day and lasting for a one month period, the outer gallery of the Palacio de Lombillo (at 151 Empedrado Street, at the corner of Mercaderes Street), with its cobblestones and arches, began its welcome to around a dozen pieces: portraits on canvas in mixed techniques.
The walls are filled with children and symbols (palms, flags, virgins, trees, hats) with ocher, sepia and golden backgrounds. Titles like "Un sueño amarillo pollito," "La cascara guarda al palo," "Larga distancia," "Expedición," "Plegaria" and "Oidos sucios recall the importance that the artist grants to the verbal supplement to his work.
This current exhibit is a kind of a continuation of the series "Principes enanos" (2007), which tells us that Maykel Herrera will continue committing himself to the sensitivity and gentleness that stir even the youngest among us.
Click on the thumbnails below to view all the photos in this gallery. On your PC or laptop, you can use the directional arrows on the keyboard to move within the gallery. On cell phones use the keys on the screen.