Cuba's Abakua Celebrate Their Anniversary
Photo feature by Elio Delgado Valdes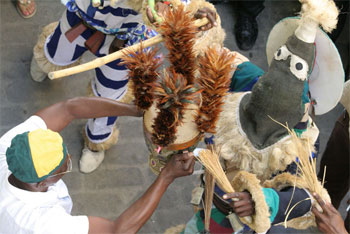 HAVANA TIMES — The Abakua secret male only society was founded in Cuba on January 6, 1836. To celebrate its 177th anniversary, a series of dances and rituals were conducted this past Sunday in Havana in remembrance of the members' African ancestors.
These secret societies were created by slaves who were ethnic Kalabari. The first such group was called Efi Buton, whose members came from the Apapa Efi tribe in Nigeria.
Only blacks were admitted into the first society, but later — when the society was extended to the provinces of Havana and Matanzas — biracial individuals and whites were allowed to join.
It's said that this religious order is the "Masons of Africa" because its main feature is secrecy, which means that non-members cannot find out in depth what it means to be an Abakua.
Precisely because of this lack of knowledge about the order, many people feel this society is made up of lower-class people and criminals. However, the following opinion describes more accurately what the all-male Abakua society is:
"A man isn't only someone who is not gay, but someone who reflects the purest of human dignity in their being laborious, brotherly, cheerful, a rebel against injustice and someone who abides by the moral code established by the founding Abakua ancestors. It is someone who is a good father, a good son, a good brother and a good friend."

Click on the thumbnails below to view all the photos in this gallery. On your PC or laptop, you can use the directional arrows on the keyboard to move within the gallery. On cell phones use the keys on the screen.