Cuba's "Obbini Bata" in Concert
By Irina Echarry, photos: Caridad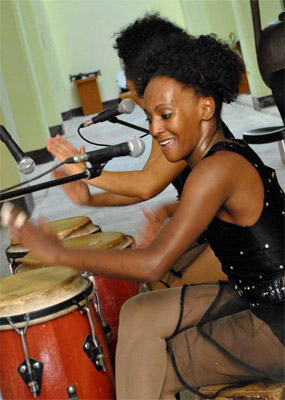 HAVANA TIMES, Dec. 10 — Women playing the bata drum? There are still some people who are amazed by this, but women have entered the world of Cuban percussion — a mostly male endeavor — and these females aren't thinking of backing off.
On the contrary, every day we're seeing new women playing the drums, the chequeres, cajas and batas.
The group Obbini Bata is an example of audacity. The founders took a chance with a sacred drum and, as such, have traveled the world leveling prejudices, because according to the opinions of some people, these drums should only be played by men.
A while back I attended one of their performances at the Casa de Africa (157 Obra Pia / between San Ignacio and Mercaderes streets). But now the place has changed somewhat.
Back then the activity took place in the courtyard of the cultural center, while now they play in the entrance of the facility. People passing by on Obrapia Street (or any other one nearby) stop to look and even to dance, because if the rhythms of those drums have any special quality, it's that they're not lost on anyone's ears.
It's a much more relaxed atmosphere where the public can get up and dance spontaneously or chant El Yerberito or some special song to an orisha (an Afro-Cuban saint).
There, you can witness everything. When I was visiting, an 84-year-old woman came in using her cane, but nobody knew how. With each song she would get up from her seat very carefully and walk towards the group to dance rumba with the artists, with someone else in the audience or simply alone.
Some foreigners could barely stomp to the beat while others moved at such speeds that anyone might have thought they were going to faint. People danced to their own steps moving their shoulders, the music of these women is truly contagious.
What's more, these performances are free, every second Saturday of the month (sometimes they move it to the third Saturday) at 2:00 in the afternoon.
To confirm the holding of the activity, call the following telephone number: 861-5798

Click on the thumbnails below to view all the photos in this gallery. On your PC or laptop, you can use the directional arrows on the keyboard to move within the gallery. On cell phones use the keys on the screen.