Cuba's Patron Saint Visits Santa Rita Church
Photo Feature by Jorge Luis Baños/IPS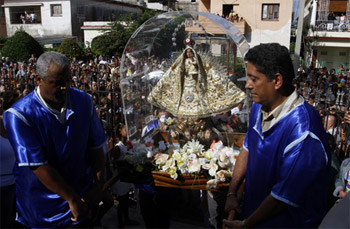 HAVANA TIMES, Nov 18 — Our Lady of Charity of El Cobre, the Patron Saint of Cuba, visited the Santa Rita church in the Miramar district and the San Agustín parish in Havana last weekend.
The Virgin is being taken along a pilgrimage that began in August 2010 at its shrine in Santiago de Cuba.
The image of the saint will be in the capital until December 10, 2011.

Click on the thumbnails below to view all the photos in this gallery. On your PC or laptop, you can use the directional arrows on the keyboard to move within the gallery. On cell phones use the keys on the screen.