Daily Life in Santiago de Cuba
Photo Feature by Janis Hernandez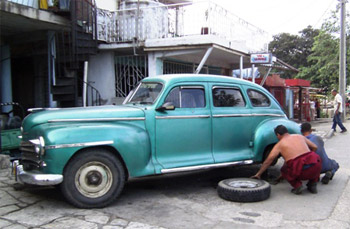 HAVANA TIMES — A friend of mine recommended that I do a photo feature on daily life in Santiago de Cuba, showing how people are in the streets, their the habitual ways of life.
Ordinary life for a Santiago resident takes place under the same circumstances as any other Cuban citizen's. From the eastern Punta de Maisi to western Cabo de San Antonio, Cubans coexist in a constant and distressing routine for survival.
Small differences exist from one region to another. The provincial capitals (like Havana and Santiago de Cuba, as the capital and the second largest city) receive larger allocations of some of the basic food subsidies, such as a pound more of rice or a few ounces more chicken than the municipalities.
But except for those distinctions, photos taken anywhere will be the same…"people struggling with life," as goes the popular saying that defines our day-to-day existence.
Without analyzing the causes of these scenarios, the fact is that these are some of the images revealing how we live in Cuba. There are only nine photos, which isn't the most prolific example of our everyday lives.
Of course there could be many more, perhaps less depressing ones, but those are not what detail our everyday life or the lives of the majority of people.
I hope my friend is pleased and no one misunderstands the purpose of this material.

Click on the thumbnails below to view all the photos in this gallery. On your PC or laptop, you can use the directional arrows on the keyboard to move within the gallery. On cell phones use the keys on the screen.