Dance and Photography in Old Havana
Photo Feature by Elio Delgado
HAVANA TIMES, April 23 — Two important cultural events took place recently in Old Havana: The 16th International Encounter of Dance in Urban Landscapes ("Old Havana, City in Movement"), and the "2nd Latin American Photography Day."
"City in Movement" — held annually in the historic center of the City of Havana since 1996 — is organized by the company Danza Reatzos of the Office of the City Historian and supported by the Centro de Teatro of Havana.
This event allows for a wide range of artistic tendencies and manifestations, including exhibits, concerts, video art and performances, courses, workshops and conferences.
Since 1999 this artistic showcase has been included in the international circuit of "Ciudades que danzan / Dancing Cities," consisting of cities of Europe and the Americas, and which was established in Barcelona in 1992 and in Cuba since 1996.
Passersby who find themselves in Old Havana can participate and interact with anything from dance to theatrical performances on a corner or in a park, since one of the objectives of this event is artistic creation and another is the promotion of choreographic work inspired by the architectural spaces where dancing is performed.
The festival has been able to promote artistic activities directed toward pedestrians as co-protagonists and creators of the presentations offered.  Throughout the week we could enjoy the activities until late at night in the Carolinas, Rumiñahui and Simon Bolivar parks.  The Plaza de Armas, one of its principal and most visited sites, acquired life with much enthusiasm.  People also gathered at San Francisco de Asis and Plaza Vieja squares.
Museums opened their inner courtyards for dance performances.  This year we could appreciate dances by the South Korean troupes Cia, Eunju Shins dance, Cia MF, Lee Young – il, Cia EDx2, and Lee in Soo.   From Chile came  Agrupacion Artistica en Construccion, while from France professor Raquel Paves realized beautiful work with children at the Vitrina de Valonia museum facilities.  Participating in workshops were dancers from Spain, Colombia, Venezuela and Brazil, where an audience of all ages enjoyed a splendid week.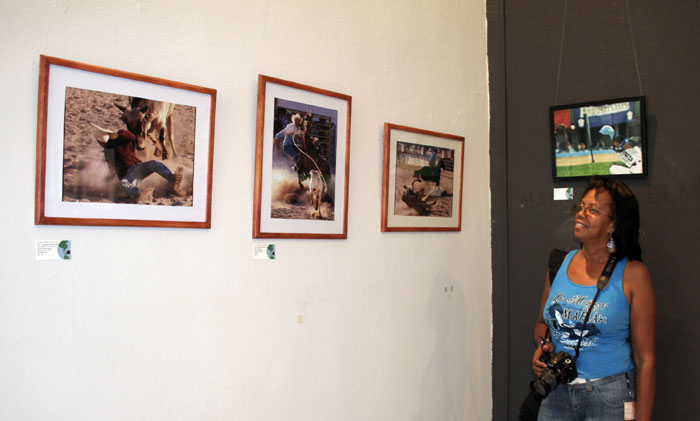 Latin American Photography Day
This 16th International Festival of Dance in Urban Landscapes took place in parallel with this photographic event that included "Ambito Veintiunoonce," a collective exhibit by photographers from several countries and presentations of "The Author and Their Work" as part of the conferences offered.
In this collective exhibit what stood out for their quality and the themes dealt were the works by visual artists such as Luisa M.  Hernandez Valdes with her rodeo photos; Jordys Puigros, with photos of fishermen against the light; young Amor Lopez Dominguez with reflection and nude; Dr.  Nelkis Ramirez Conde with urban landscapes; the young Swiss student Emile Sruby with folkloric dances, and the documentary maker Grisell Concepcion Timor treating the theme of elderly Cuban woman.  That documentary was presented during this event after making its premiere previously along with the documentary "Más allá de la fe" jointly with photographer and fellow documentary maker Elio Delgado Valdes (independent cinema) who surprised participants this time with a work concerning nature.
In addition to the location and timing that they had in common, what stood out from both events was that they were organized and led by women, Zulema Castell and Isabel Busts, the principal organizers of the festival.

Click on the tumbnails below to view all the photos in this gallery