Dance in Urban Landscapes: Old Havana in Motion
Photo feature by Elio Delgado Valdés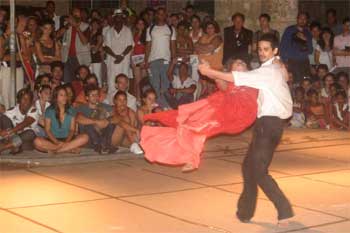 HAVANA TIMES, April 21 — Dance invades the streets of Old Havana this Saturday and Sunday for the final days of the XVII International Dance Festival in Urban Landscapes: City in Motion.
Sponsored by the Office of the Historian of the City, the festival, which began on Wednesday, brings together companies from 14 countries. This entire event will be under the guidance of the group Danza Teatro Retazos, which is directed by 2012 National Dance Award winner Isabel Bustos.
The festival led off with a presentation of "Retazos en el Tiempo" (Pieces in Time), a selection of that company's most outstanding works over its 25 years of existence.
The event includes parades with the street performers Giganteria Havana, exhibitions, workshops for children and youth, and dance performances in the streets and squares of Old Havana.

Click on the thumbnails below to view all the photos in this gallery. On your PC or laptop, you can use the directional arrows on the keyboard to move within the gallery. On cell phones use the keys on the screen.