'En Attendant': Another Look at the Ballet
Irina Echarry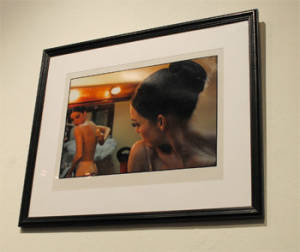 HAVANA TIMES — I'm sure that at some time in my life I've wanted to pull back the curtain of a theater and see what happens behind the scenes, to witness the swirl of activity before the characters go on stage.
That's what Yailin Alfaro Guillen did with "En Attendant" (French: While Waiting), her photographic exposition that lifts off the veil that separates fact from fiction.
What happens in those dressing rooms?
We see tutus that still haven't encircled bodies, slippers resting in a corner, mirrors reflecting anxiety, creams and makeups being spread on skin, men and women engaged in a frantic rush.
The photographer captures the excitement and movement typical of the beginning of a show. No doubt, life is indeed hectic backstage.
For those who usually go to the ballet, this will be an opportunity to take another look at dance and its performers.
If you visit the "Centro de Desarrollo de las Artes Visuales" (the Center for the Development of the Visual Arts in Havana) in November, you'll confirm that behind the scenes, ballet dancers cease being magical beings and become human.

Click on the thumbnails below to view all the photos in this gallery. On your PC or laptop, you can use the directional arrows on the keyboard to move within the gallery. On cell phones use the keys on the screen.