"G" St. Havana, its Ave. of the Presidents
Photo feature by Elio Delgado Valdés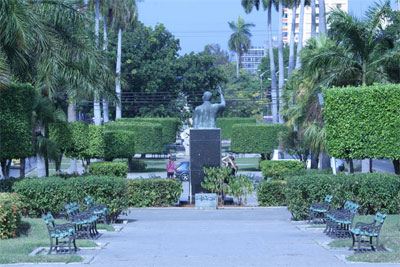 HAVANA TIMES — Presidents Avenue, better known as G Street, in Havana' Vedado district, is one of the most beautiful avenues in the Cuban capital.
It's a two-way avenue with a wide park in the middle with benches and well-maintained trees, connecting the seaside Malecon drive on one end and Avenida Salvador Allende (formerly Carlos III) on the other.
At the beginning of this esplanade is a bust of Major General Bartolome Maso, the last president of the "republic in arms." Next comes a beautiful and expansive monument to president Jose Miguel Gomez (controversial for his role in the massacre of at least 3,000 blacks 100 years ago this year).
No statue, bust or monument was placed for any of the other Cuban presidents who served during the island's capitalist epoch.
Today Presidents Avenue has several statues and busts of Latin American presidents who have stood out for their contributions to their peoples and to the integration of the region.
At the end of the avenue, near where it intersects with the Malecon, is an equestrian statue of Major General Calixto Garcia, who was a general in the three uprisings that constituted the Cuban war for independence from Spain.

Click on the thumbnails below to view all the photos in this gallery. On your PC or laptop, you can use the directional arrows on the keyboard to move within the gallery. On cell phones use the keys on the screen.