Historic Estate in the Heart of Havana
Photo Feature by Elio Delgado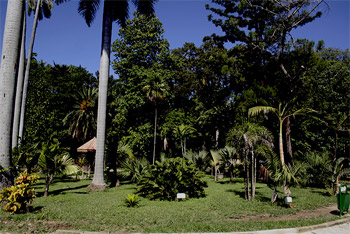 HAVANA TIMES, October 29 — La Quinta de los Molinos is an estate located in the heart of Havana. During the colonial era it was a country house where military officers could rest and relax.
After the War of Independence the office of the former Mambi Army was located there as was the main home of General Maximo Gomez until his death in 1905.
In 1986 the Maximo Gomez museum was created on the Quinto, and in 1987 it was declared a national monument.
Today the grounds accommodate the Institute of Nuclear Science and Technology (ISCTN) within the Ministry of Science, Technology and the Environment.
In the farm's area is also a botanical garden with over 200 species of trees of both of Cuban flora and others from abroad. In addition, on the Quinto is based a bird watchers association, a mounted bird collection and a beautifully decorated aquarium area.
The accompanying photos include some of the buildings, as well as some of the most important activities on the estate, especially the aquarium.

Click on the thumbnails below to view all the photos in this gallery. On your PC or laptop, you can use the directional arrows on the keyboard to move within the gallery. On cell phones use the keys on the screen.