Human Statues on Obispo St. in Old Havana
Photo Feature by Ernesto Diaz Gonzalez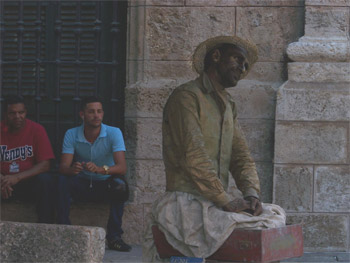 HAVANA TIMES – Obispo Street is one of the most popular and representative of Havana. The city's history cannot be written without mentioning this street that day after day, from dawn until late at night, is crisscrossed by hundreds of people.
On one end is the legendary El Floridita, immortalized by Hemingway with his Daiquiri's, to the Plaza de Armas and the Palace of the Captains General.
No visitor who comes to comes to Havana,  domestic or foreign misses a chance to walk down Obispo, visiting its many shops where you can find everything from a bicycle to a Pekingese puppy, some looking for pigeons walking around or for the spirit of Hemingway in the Ambos Mundos Hotel.
However for some time now something new has appeared in the scenery of Obispo Street: human statues, young men and women, who have found a rather complex way of making a living, that beautifies the surroundings, and both locals and tourists appreciate it.
Here you will find everything from clowns, gardeners giving away flowers given, to snake charmers and medieval knights among other characters, that amaze children and arouse admiration from adults.

Click on the thumbnails below to view all the photos in this gallery. On your PC or laptop, you can use the directional arrows on the keyboard to move within the gallery. On cell phones use the keys on the screen.