Illusion in Paintings in Guantanamo, Cuba
Photo feature by Lorenzo Crespo Silveira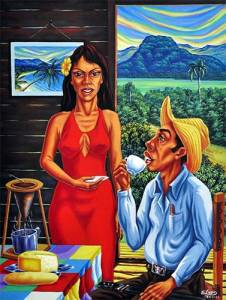 HAVANA TIMES — Ilusion ("Illusion") is the title of the 13-piece, oil on canvas series currently on exhibition at the gallery space of the Guantanamo Cultural Center. In these paintings, visual artist Elio Fernandez Lugo, awarded the Naïve Art Scholarship in 2014, portrays Guantanamo's farmers and their modern day habits, with a touch of suggestive (and typically Cuban) humor.
In the series, the young artist, known as the creator of the character Guaso, reveals his talent and creativity by combining elements of rural culture, giving his pieces a sense of volume through the use of colors and dream-like images.
I hope you enjoy this small but interesting sample of the artist's work which will be on display until the end of December.
Click on the thumbnails below to view all the photos in this gallery. On your PC or laptop, you can use the directional arrows on the keyboard to move within the gallery. On cell phones use the keys on the screen.