Liuba Maria Hevia in concert
HT Photo Feature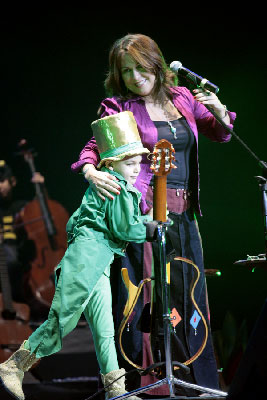 HAVANA TIMES – Cuban singer/songwriter Liuba María Hevia interpreted over 15 songs from her new disc Teresita (awarded at CUBADISCO 2013 in the category of music for children) in two concerts at the Karl Marx Theater in Havana.
This album is a tribute to the great Cuban singer Teresita Fernandez. Liuba did versions of Teresita's songs that have long been part of the childhood songs of several generations of Cubans.
Also during the concerts held on June 1-2, was an exhibition in the lobby of a collection of drawings by Adriana Gonzalez Paula, a girl who accompanied Liuba in several performances.
Liuba, a Goodwill Ambassador of the UNICEF, sang along with the young actors and actresses of La Colmenita (The Beehive) the most known songs of Teresita Fernandez' repertoire: The cricket with cold, Because our hearts are happy, Clown, Pitusa and Eusebius, My kitten Vinagrito, Bunny Majadero , Vicar, Tin Tin, rain, the green Lizard, the Ugly, the hummingbird, give me your hand and will dance, and the Puppet Master.

Click on the thumbnails below to view all the photos in this gallery. On your PC or laptop, you can use the directional arrows on the keyboard to move within the gallery. On cell phones use the keys on the screen.