Marti's Corner and Marti's Forge
Photo Feature by Elio Delgado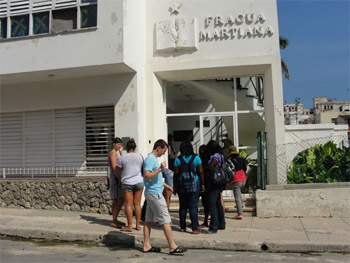 HAVANA TIMES, Nov 22 — Founded in one sole place, Marti's Corner and Marti's Forge pay homage to our "Apostle," Jose Julian Marti y Perez (1853 -1895).
Marti's Corner
The exact spot where the sentence of forced labor was carried out by Jose Marti was determined by Dr. Federico Castaneda after an exhaustive investigation, one that was greatly aided by a copy of the excavation plans of the prison built by Dr. Stephen T. Pichardo. The idea was that the locating of that spot would provide a historical site of patriotic value.
Years later, Gonzalo de Quesada y Miranda made a visit to the site led by Castañeda and accompanied by the former city historian, Manuel Isidro Menendez, as well as Emilio Vasconcelos, the head of Municipal Planning – all followers of Marti.
Increasingly more researchers and scholars embraced this idea to ??preserve this "unique place where the tracks still remain…where Jose Marti worked and suffered" (Taken from a letter by Felix Lisaso to the president of the republic).
On Sunday, October 31, 1943, it was determined that the site would become El Rincon Martiano (Marti's Corner).
The prominent sculptor Teodoro Ramos Blanco was charged with creating a bronze and marble monument, and architects Dudefaix and Febles would carry out the overall project and draft the budget.
On February 11, 1944, by Presidential Decree 270, a loan of 20,000 pesos was granted for "Marti's Corner" in the former quarry site. In addition, a project board would be created to serve as an advisory body of the president of the republic.
Soon after, work began under the direction of architect Enrique Gil. On April 6, 1944, in a solemn act, "Marti's Corner" was inaugurated.
It is located on the site that in the nineteenth century was occupied by the St. Lazarus quarry, located on Principe Street at the corner of Hospital Street. This was the industry in which Marti was forced to work, and where he was identified as "La Criolla."
It is a small, quiet, welcoming place with an atmosphere in which love and peace touch our hearts.
Jose Marti. A teenager sentenced to hard labor for his ideas of independence.
Marti was 17 when he was sentenced to hard labor in these quarries (1871) for having written a "reproving letter" to a friend who had joined the ranks of an auxiliary military force serving the Spanish colonial regime.
They cut his hair and dressed him like a convict, shackling his right ankle and attaching that bond to a chain that went around his waist.
His health declined markedly and his eyes suffered from the lime in the quarry.
Though he was sentenced to six years in prison, thanks to the efforts of his parents and a friend of theirs, he was deported to the El Abra Prison on the Isla de Pinos, just south of the Cuban mainland, before being exiled to Spain.
About his suffering in that place he wrote:

What is that?

Nothing.

To be beaten, trampled, dragged, slapped in the same street, near the same house, in the same window where a month earlier we received the blessing of our mother.
What is it?
Nothing.
In here with water up to my waist, with a pick in hand, with shackles on my feet, a few days ago Lasheras came by this place, because the sun bothered our eyes and the heat was bad for our health. What is it?

Nothing.
I'm going blind, lame, bruised, wounded, to the beat of son of the stick and the blasphemy, from the blows and the derision, through the streets those that months earlier had seen me pass by, calmly, with the sister of my love in my arms and the peace of good fortune in my heart. What is this?

Nothing either.  
Horrible, terrible, heartbreaking nothing (Taken from: Political Imprisonment in Cuba).
On the back of his picture at the prison, the inmate Marti wrote this dedication to his mother on August 28, 1870:

"Look at me, mother, and for your love, don' cry.
If I am a slave to my time and my doctrines,
Your martyred heart full of thorns
Think how flowers are born among thorns.
Despite such long-suffering, he was a man who loved his family, country, life and liberty. He was someone who gave friendship and loyalty a top place; there is not a single word about hatred or revenge in his ideology. "Few, like mountains, are the people who know how to look from within themselves and feel the heart of a nation or of humanity." For his friends and detractors alike, Marti would grow white roses.
Marti's Forge
It was in the quarries of San Lazaro where ideals and the personality of this Cuban patriot were forged. That's why Gonzalo de Quesada y Miranda, founder of Marti Seminar at the University of Havana, on November 21, 1941 took the initiative to create that institution.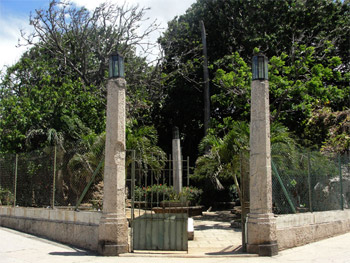 Its name makes reference to the words of Marti written in a study on Guatemala: "A school is a forge of spirits, woe to villages without schools! Woe to spirits without temples!" But it was in middle of his pain of imprisonment — "the roughest, the most devastating of pain" — which forged the invincible spirit of the organizer and ideologist of the Cuban war of independence, the founder of the Cuban Revolutionary Party whose statutes (manuscripts) we can see here.
One of the most historic museums in Havana, it was built during the presidency of Dr. Carlos Prio. It was completed in 1951 and was officially opened on January 28, 1952.
Since its inception, the "Marti Forge" (Spanish: La Fragua Martiana) has been directly linked to work related to Marti at the University of Havana. From October 24, 1962, "Marti's Forge" and "Marti's Corner" were placed under the aegis of that educational center.
With the creation the "Marti Studies Department" (Spanish: La Catedra Martiana) on February 15, 1984, "Marti's Forge" became its headquarters.
Among the distinguished guests who have visited "Marti's Forge" is Maria Mantilla, in January 1953.
"Marti's Forge" is located on Vapor Street at the corner of Hospital Street.
Its most important contribution is the preservation and transmission of ideas of Marti. It is a meeting place with both a history and a symbol.

Click on the thumbnails below to view all the photos in this gallery. On your PC or laptop, you can use the directional arrows on the keyboard to move within the gallery. On cell phones use the keys on the screen.