By Irina Echarry (Photos: Elio Delgado Valdes)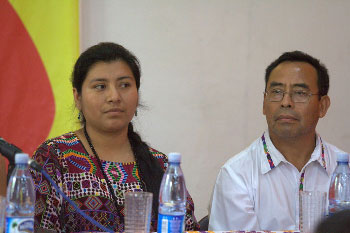 HAVANA TIMES — Surrounded by blouses, sweaters, belts and sashes sat Ana Lopez with a loom over her waist and, in front of all present, began to weave the strands, demonstrating her mastery over the threads, colors and technique.
Minutes earlier, she had given a lecture on how Mayan art has been reflected in their weavings from their grandparents to today. Despite the colonization bringing new knowledge and materials, they knew how preserve their culture and traditions.
Lopez explained the different instruments used to make the clothing and the meaning of the designs they do. For example, a diamond shape recalls the representation of a DNA chain, and means "she who gives life, the womb, the seed of life."
From her personal experience, the psychologist and linguist also commented on some particular knowledge of the Mayan people learned at a very young age. When they arrive at school they discover that those teachings match universal knowledge, though not always applied in daily life, such as feeling part of nature and not trying to dominate it.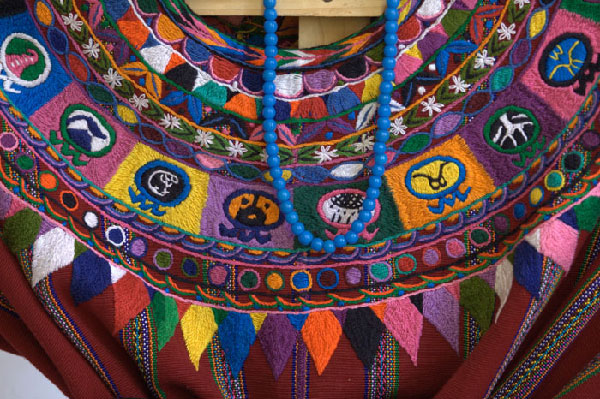 The House of Alba Cultural Center has on display until Sept. 28, twenty sets of clothes that teach us about the Mayan worldview, its duality, whereby everything has a complement: world-underworld, light-dark, hot and cold, etc.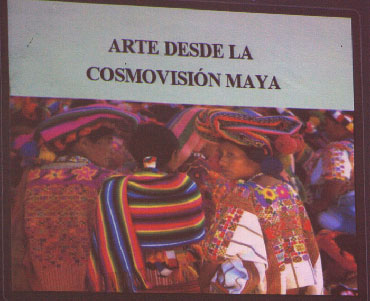 Cuban photographer Julio Larramendi spent three years in Guatemala and recognizes that it is a paradise for photography for its colors, the light and weather. Alongside the weavings being shown are some of his photos showing people in their "land of eternal spring" in their traditional dress or weaving.
For the Mayans, clothing is the material wrapping of the spirit. It nourishes the energy of the being and is used to interact with nature.
The expo: Guatemala , Mayan Weavings can be visited from Tuesday to Saturday between 10 am and 5 pm. at the Casa del Alba, located at No. 556  Linea St , corner of D, in Vedado.

Click on the thumbnails below to view all the photos in this gallery. On your PC or laptop, you can use the directional arrows on the keyboard to move within the gallery. On cell phones use the keys on the screen.