'Puzzle': An Invitation to an Abstract Game
Yanelys Nuñez Leyva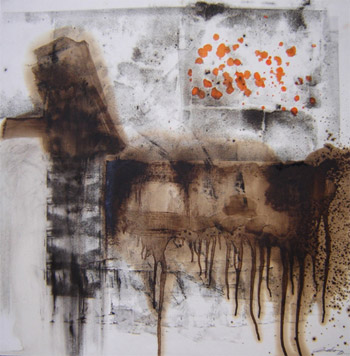 HAVANA TIMES — Abstract painting possesses a strange way of calling attention to itself.
Its enigmatic, ambiguous and overwhelming character compels viewers to establish varying sets of interpretations, ones that sometimes become intensely bitter.
The young Cuban painter Gabriel Estrada, with his individual exhibit "Puzzle," forces viewers to create such connections.
Through the violent and impetuous strokes slung onto his compositions, "El Gabo" (as he's known) raises questions about the most diverse human conflicts.
A 2004 graduate in art instruction, he currently works as a specialist at the Concha Ferrant Gallery in the Havana municipality of Guanabacoa, where his own exhibit is on display until November 3.
Described by scholar Francisco Javier Arteaga as a "temperamental artist," Gabriel reflects in these images all the impulses we experience, and in their most generic senses.
To achieve this he has created photographs of buildings and architectural details, which he himself has captured in his continuous retracing of the streets of Guanabacoa.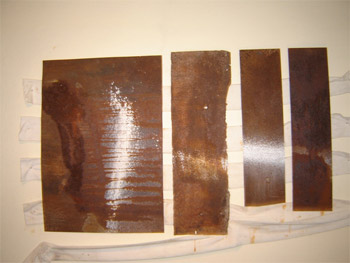 But more than anything, he appeals mostly to those everyday life experiences that motivate, excite or discourage him.
Though his material resources are minimal — kraft paper, white ink, etc. — this doesn't seem to limit him. He's always searching and constantly experimenting with different media, which can be seen in this exhibit through the inclusion of even oxidized zinc plates.
Now the question is what to do with this group of abstractions that, though without titles, still guide us toward a referent or a reality (as is usually seen within this artistic trend).
What does one think in the face of so many dark atmospheres and such prolonged sadness?
What does one feel before the clean forms that gravitate towards us from those dark spaces?
There is no pat formula. One can only ask themself whether it's worth inquiring into the depths of this puzzle.
I'm taking that risk.
And you?
Click on the thumbnails below to view all the photos in this gallery. On your PC or laptop, you can use the directional arrows on the keyboard to move within the gallery. On cell phones use the keys on the screen.