Santiago de Cuba Pays Tribute to Chavez
Janis Hernandez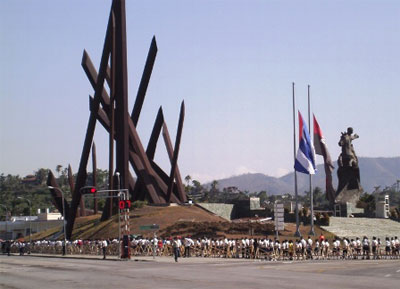 HAVANA TIMES — Soon after 4:30 pm on March 5, when the news came concerning the death of Venezuelan President Hugo Chavez, Cuba united in extending its condolences to the people and the government of that country.
Official mourning here was declared for March 6 and 7, while national mourning was set for March 8. Our flag was flown at half mast throughout the island, and there have been many expressions of feeling by Cubans.
Yesterday, beginning early in the morning, tributes were made across the nation to the Venezuelan leader, who visited Santiago de Cuba a few years ago.
In Santiago's Revolution Square, a huge picture of the late president was erected. Under it were wreaths on behalf of Fidel and Raul Castro, the top leadership of the Communist Party and the government of the province, and the people of Santiago.
An honor guard of soldiers, young pioneers and workers, as well as a procession of emotion filled Santiagans gathered in front of the chapel. The tribute was presided over by the president of Cuba, Raul Castro, who was in the city of Santiago de Cuba before leaving for Caracas.
Here I've assembled some snapshots showing our eastern town paying tribute to the late Hugo Chavez.

Click on the thumbnails below to view all the photos in this gallery. On your PC or laptop, you can use the directional arrows on the keyboard to move within the gallery. On cell phones use the keys on the screen.