St. Jude Day in Santiago de Cuba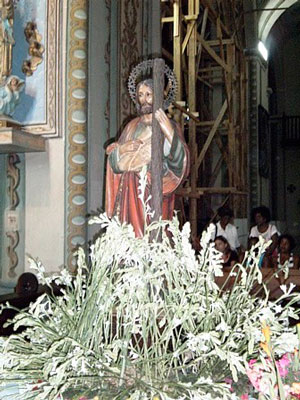 Photo Feature by Janis Hernandez
HAVANA TIMES — One of the days when the religiosity of Cubans is most evident is on October 28, which is dedicated to St. Jude Thaddeus, an apostle of Jesus Christ. Considered the attorney of impossible causes, he is one of the most beloved Catholic saints.
Judas is a Hebrew word meaning: praise be to God. Tadeo means: brave to proclaim their faith.
On Monday afternoon the cathedral of Santiago de Cuba, welcomed hundreds of parishioners and lay visitors.
The cathedral still shows sequels of Hurricane Sandy making the usual pilgrimage to the atrium not possible.
However we witnessed a beautiful Mass, accompanied by prayers and vows. This photo feature contains some moments of the worship.

Click on the thumbnails below to view all the photos in this gallery. On your PC or laptop, you can use the directional arrows on the keyboard to move within the gallery. On cell phones use the keys on the screen.