Tribute to Havana's Callejon de Hamel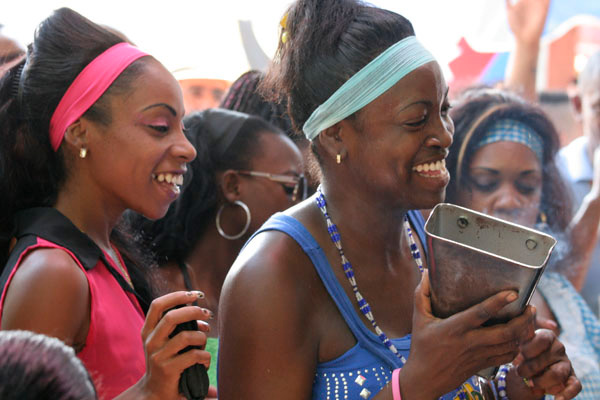 By Irina Echarry  (Photos: Elio Delgado Valdés)
HAVANA TIMES — Located in Havana's neighborhood of Centro Habana, the Callejon de Hamel ("Hamel Alley") welcomes visitors from around Cuba and the world on a regular basis. Some go there to play instruments, others to dance, and many simply to socialize. The project, born in the 1990s, is today officially acknowledged and praised by renowned musicologists.
During the recently-concluded Cubadisco awards, dedicated to drum playing, the Honary Award was granted the Callejon and Salvador Gonzalez, founder of the project. According to Cary Diez, folk music expert and lover, it was an opportunity to pay tribute to "all percussionists, rumba players, dancers and people who play instruments there."
The space in this unsual alley, whose walls are painted over with aphorisms, is small: visitors find it difficult to move from one end of the alley to the next and even dance. This past Saturday, May 25th, the place was alive with joy. In the words of one of the hosts: "justice has been done."
Gonzalez, visual-artist-turned-cultural-promoter, explained: "that business of justice is complicated. Justice is my people, my neighborhood, justice is in these walls."
Moved, he reminisced, saying: "when our teacher, Fernando Ortiz, took the sacred bata drums to the Main Hall of the University of Havana, accompanied by our Merceditas Valdes. Today is a very important day. The recognition this institution (Cubadisco) gives me carries the names, the blood, the sweat and the rumba, the way it has always been performed and will always be performed here: shirtless and sweating. Blood rumba, not glittering rumba."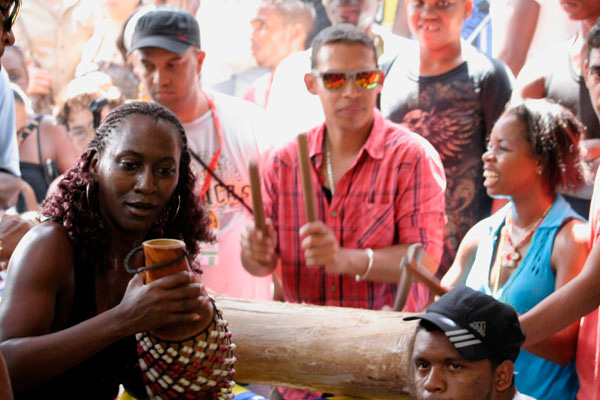 On referring to Herencia, a Venezuelan group that played that afternoon, he recalled the first time he visited Venezuela and travelled to Barlovento to listen to a drum playing performance there. "It is a very rich form of percussion, it is a marvelously expressive dance. Our ancestors roots were present there, just like they are here in the Callejon."
The rumba music was played spiritdely at this place where, according to Cary Diez, "we pay tribute to drums and drum-playing every day," a place Yosvani Hidalgo, one of the world's best percussionists, baptized as the "rumba thermometer."
Click on the thumbnails below to view all the photos in this gallery. On your PC or laptop, you can use the directional arrows on the keyboard to move within the gallery. On cell phones use the keys on the screen.