Venezuela Electoral Propaganda
Photo feature by Caridad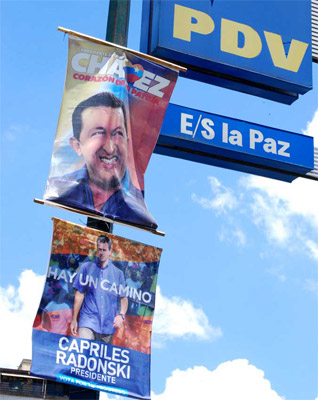 HAVANA TIMES — Once again the streets are filled with electoral campaign materials; though to tell the truth, the streets of Caracas are always filled with all types of publicity, including political ads of course.
But now that the "Right Way" of Capriles and the "Patriotic Heart" of Chavez are plastered all over the streets with their broad smiles and the usual promises. I asked the owner of a car to take me around exploring some areas of the capital with my camera in hand.
I just like seeing what comes out.
Without any specific purpose, only for us to have a good time (the camera and me), we set out hoping not to get our "hearts broken" by the political lust.
I did think that it was a shame, seeing such a waste of paper on all those banners, posters and signs.
Some make their contribution in promoting their preferred "leader." Writing their own graffiti or ruining that of their opponent's.
But I think the best contribution is made by those who design the visual propaganda. They are geniuses when it comes to subliminal information (and making people who know how to recognize it laugh).
Voting in Venezuela takes place on October 7th.

Click on the thumbnails below to view all the photos in this gallery. On your PC or laptop, you can use the directional arrows on the keyboard to move within the gallery. On cell phones use the keys on the screen.