Venezuelan Retirees and Pensioners Protest
Photo Feature by Caridad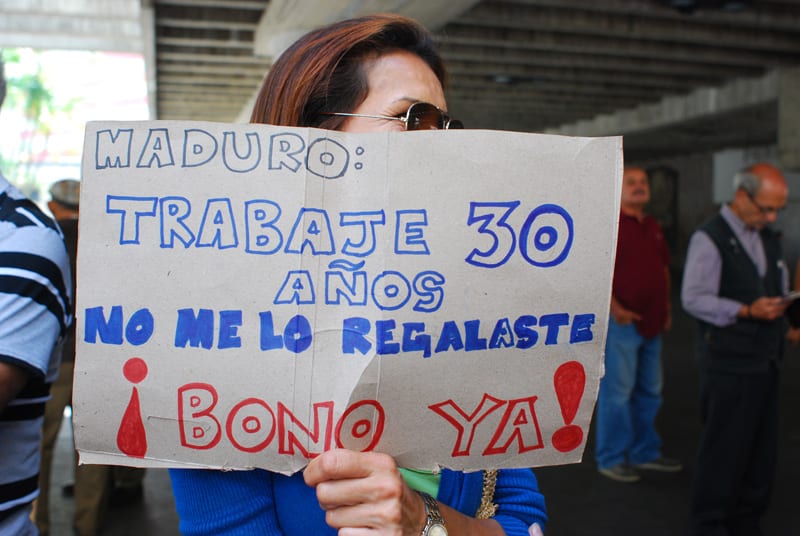 HAVANA TIMES – For the second consecutive day, and this time not only in Caracas, also in several states of Venezuela, retirees and pensioners hit the streets to demand their right to life.
Without fear, because they were already repressed yesterday, they organized again around the Central Bank of Venezuela to bring to the Supreme Court of Justice their demand: to implement the Law on the Bonus for Medicines and Food for retirees, approved by The National Assembly in 2016.
"Angry grandparents demand their rights" was one of the slogans that led them to the Supreme Court, which declared the law constitutional, but would only be paid depending on economic availability.
While the president buys planes, arms, grants million dollar loans to private companies (the same ones he accuses of the economic war), and continues to pay international debts; the retirees and pensioners of the country, barely receive 40 thousand bolivars monthly, when the cost of a drug for blood pressure is 41 thousand bolivars. (The bolivar currently trades on the street at over 3,000 to one USD)
Those who marched today have nothing to lose, they are not afraid, they no longer have time to wait for the president to give more importance to their lives than to the political differences with the National Assembly.
But does the National Assembly really exist? Well, that's another story.
Click on the thumbnails below to view all the photos in this gallery. On your PC or laptop, you can use the directional arrows on the keyboard to move within the gallery. On cell phones use the keys on the screen.