Why Isn't Garbage in Havana Being Collected?
The Ampliacion del Sevillano neighborhood and its rivers of garbage
Jimmy Roque Martínez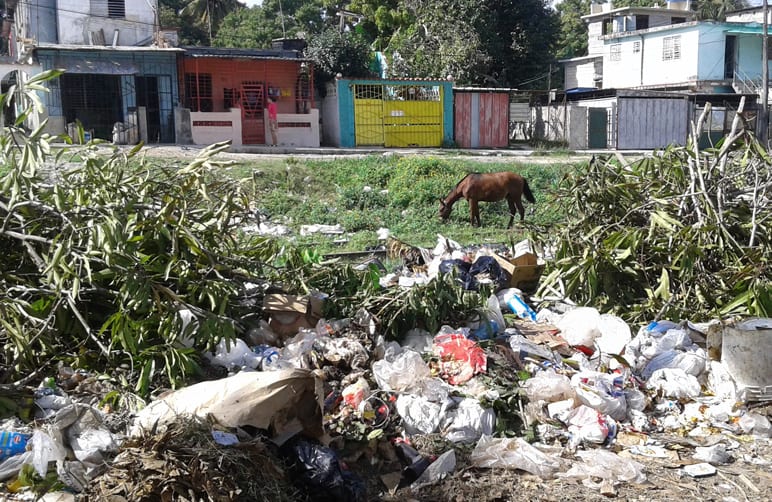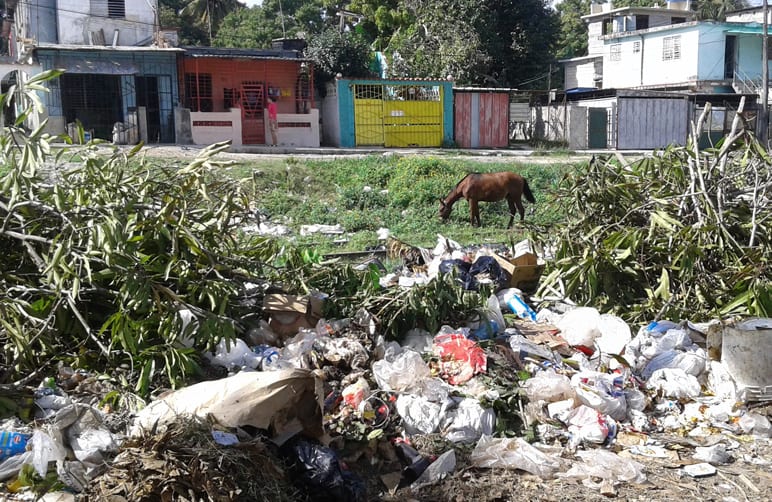 HAVANA TIMES — Corruption is one of the reasons why collecting solid waste in the Cuban capital has been a problem that hasn't been resolved for many years, but government media doesn't seem to understand this and continues to blame the population. "Popular Indiscipline" is what they call it.
The lack of resources is real; but so is stealing fuel and using garbage trucks for other tasks. On the other hand, many of the country's new private businesses pay garbage collectors to give priority to cleaning their areas.
If they weren't, how we can justify that after complaints being made in Alamar, all of the local municipal staff was replaced in this large neighborhood? And how can it make sense that the situation was fixed using the same resources, at least for a few weeks?
Cuban TV has aired several reports about the subject, but without going into all of the causes of this hygiene crisis in depth. Instead, most of the time they end up blaming the population even more.
Is it so hard for them to realize what's going on?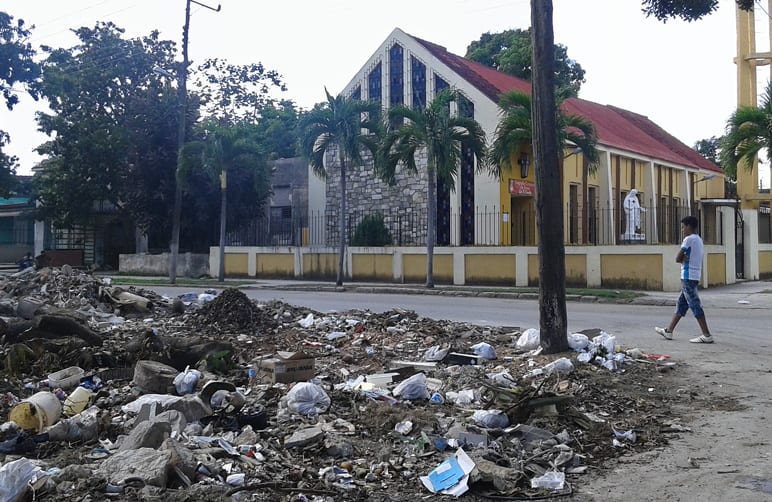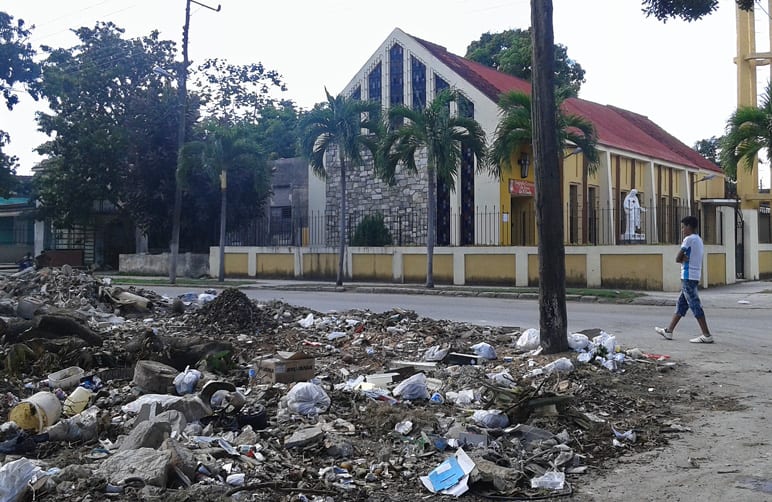 Residents from the outskirts of the city have contacted the green collective El Guardabosques on several occasions to report the extremely unhealthy situation where they live. For example, not too long ago, somebody called me from Los Pinos, in the Ampliacion del Sevillano neighborhood, Arroyo Naranjo municipality.
There aren't any garbage containers in this neighborhood. In some places, plastic bags full of waste are placed outside houses until a horse-drawn carriage comes to pick them up, normally every other day.
The horse carts can't pass through other areas which go deeper into the neighborhood, and so many neighbors, like 65 year old Saldivar, have to walk 10 blocks to throw away garbage from their house, to a dump right on the street.
According to what El Prieto explained to me, in the Communist Services Dept., "This isn't a container zone, it's a horse-drawn carriage zone. Garbage pick-up trucks don't come to neighborhoods here in Arroyo Naranjo. It's been verified that here, local residents' daily waste doesn't fill a container, which can hold up to 20 sq. meters of garbage."
In our conversation, el Prieto didn't know how to explain how the decision to not put containers there had been made, while, according to what we saw, there are blocks which have several meters of garbage thrown out onto the street because there aren't tanks to put it in.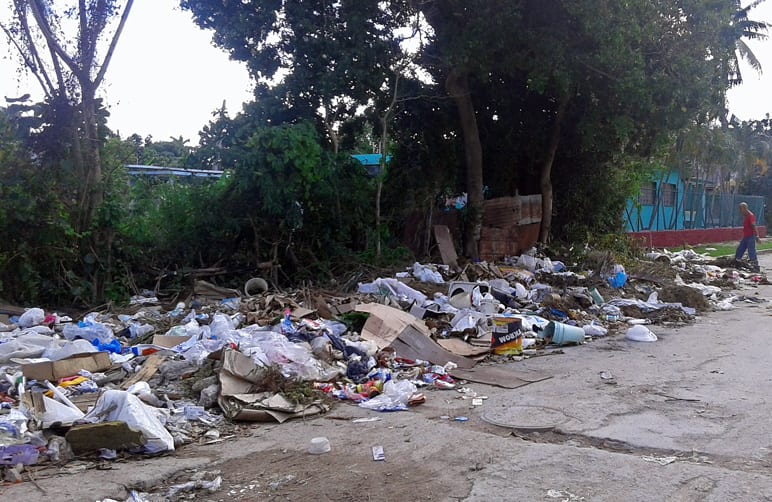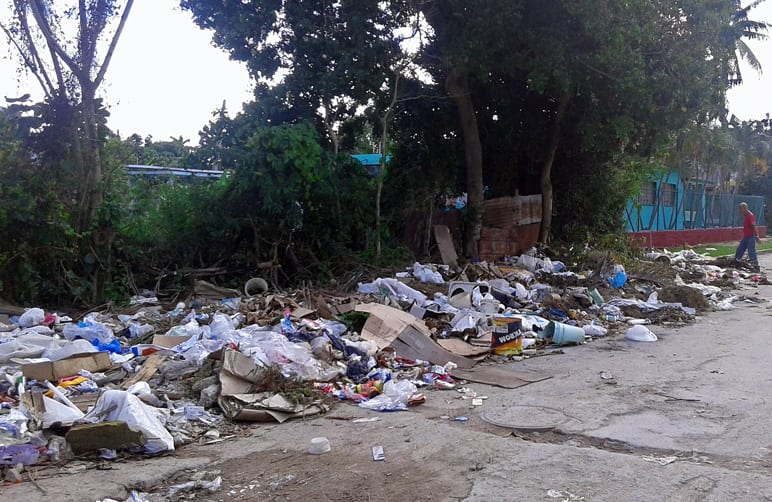 Pedro, who lives right next to one of those street dumps, near the Sierra Maestra primery school, told us that "the truck which comes to pick up garbage which remains thrown out on the street only comes once a month, and sometimes it takes even longer."
"Nevertheless, it isn't always able to take away all of the garbage as there is so much that only a bike can get through sometimes, as the street is covered in waste," Pedro says, who also clarifies "it might seem like a lot now, but the truth is there's less than there normally is."
We're talking about a block where many children have to walk to school, which is less than 30 meters away. Pedro reports that when there is wind, a lot of this garbage and dust enters nearby houses.
Residents in Ampliacion del Sevillano haven't received any answers from local officials. Both Pedro and Saldivar have no idea where their area representative lives, and they don't know how they can fix the problem they are experiencing.
Cuban bureaucratics don't feel the need to take responsibility for their actions and the management of public resources. This is where the error of this evil and almost every other evil in Cuba stems from.
Popular pressure needs to become an efficient tool to fight against corruption and authoritarianism.
Click on the thumbnails below to view all the photos in this gallery. On your PC or laptop, you can use the directional arrows on the keyboard to move within the gallery. On cell phones use the keys on the screen.