Yusa and Yissy Close Havana's Female Artists Festival
Irina Echarry (Photos: Elio Delgado Valdes)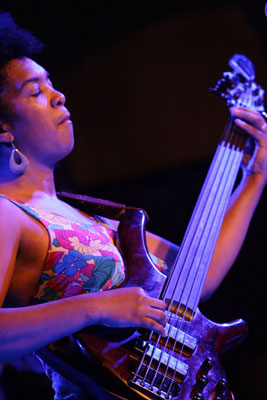 HAVANA TIMES — Cuban musicians Yusa and Yissy Garcia took the stage together for the first time at a concert held in Old Havana's Plaza Vieja to close the Ellas Crean ("Women in the Arts") Festival.
In addition to a persistent rain which interrupted the concert from time to time and forced spectators to take shelter in the doorways of nearby buildings, the night of Saturday, October 19 was sprinkled with delightful jazz and world music. Despite the bad weather, the artists spared no energy and talent during the concert.
Electronic music producer Lyda Cao, singer Laritza Bacallao and Cuban rock band Tesis de Menta vocalist Beatrix Lopez made guest appearances. The program included a selection of the most recent works by Yusa and Yissy Garcia, who performed with a band of magnificent musicians: Jorge Aragon (piano), Julio Rigal (trumpet), Hector Quintana (guitar), Adel Gonzalez (drums) and DJ Jugue (synthesizer).
The Festival was also a pleasant experience through and through. While very few people attended the conferences and workshops held during the event, the films, concerts and art exhibitions were well received by the public.
The aim of the festival is to celebrate the work of female artists. Many of us are wondering, however, whether future festivals will divulge the creative efforts of less recognized artists, those who work in the underground, away from the market and popularity.
I hope they will, for it would be an excellent way of spicing up the festival, a way of acknowledging that women are working, creating, in all spheres of culture and society.

Click on the thumbnails below to view all the photos in this gallery. On your PC or laptop, you can use the directional arrows on the keyboard to move within the gallery. On cell phones use the keys on the screen.