A Sunday on Havana's Paseo del Prado
Photo Feature by Elio Delgado Valdes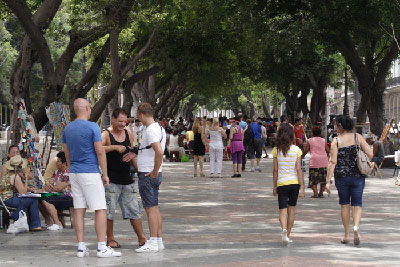 HAVANA TIMES — The Paseo del Prado in Havana Vieja, is one of the most popular avenues of the city both for inhabitants and visitors, with its marble benches under shady trees providing much-needed protection against the sun's harsh rays that punish to Cuba for most of the year.
This beautiful walkway was built in 1772, under the Spanish colonial government, to resemble the Paseo del Prado in Madrid. It is a kilometer long and extends from the Fountain of India in Fraternity Park, to the Malecon seawall.
But I'm not going to refer to the history of the Prado, which can be found easily on the internet. I just want to show what happens there on a Sunday.
Any day of the week we can find people sitting reading the newspaper, children playing or skating, tourists wandering around and taking pictures. But on Sundays we find many artists painting and exhibiting their works, and crafts people working and showing their products to sell.
We also met up with Cecilio Aviles and his project Image 3, the Knowledge Fair to enjoy learning. This visual artist integrates numerous artistic manifestations in the project mainly developed in Havana, but also extending to many of the country's more isolated mountainous regions.
Image three has published several educational and recreational books including the collection "Let's Draw" and the book "Drawing Music". Also, the project spearheads the cultural program project called The Community Arts Festival.
So enjoy these images of the Paseo del Prado, converted on weekends into a grand avenue of culture.

Click on the thumbnails below to view all the photos in this gallery. On your PC or laptop, you can use the directional arrows on the keyboard to move within the gallery. On cell phones use the keys on the screen.