Havana Friday Sidewalk Band Concerts
Photo Feature by Irina Echarry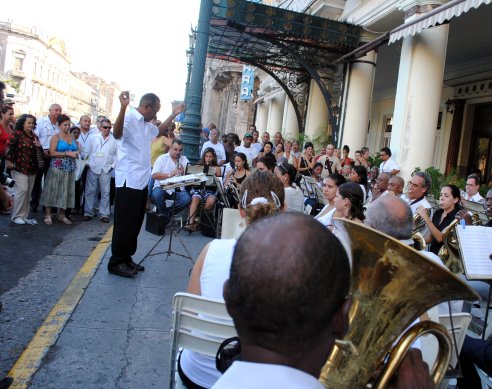 HAVANA TIMES, Nov. 12 — In front of the Hotel Inglaterra, to one side of the Garcia Lorca Grand Theater of Havana, in the heart of the municipality of Centro Havana, every Friday afternoon at four o'clock a singular activity begins: oboes, flutes, saxes, basses and even drummers gather around the baton that will direct this orchestra.
Sheet music and music stands, women and men, the young and not so young, all unite in an effort to promote good music to the public passing by this central point in the city, where people returning to work or to classes stop to take in the sounds.
The Havana Provincial Concert Band offers these outdoor shows free to anyone who wants to appreciate good art.
Equally heard are Beethoven's Ode to Joy, a Chopin prelude or a varied repertoire of Cuban music that includes traditional trova, the music of Cervantes, Lecuona, danzon or el Unicornio Azul by Silvio Rodriguez.
This is a pleasant opportunity to relieve oneself of daily stress and its consequences.

Click on the tumbnails below to view all the photos in this gallery