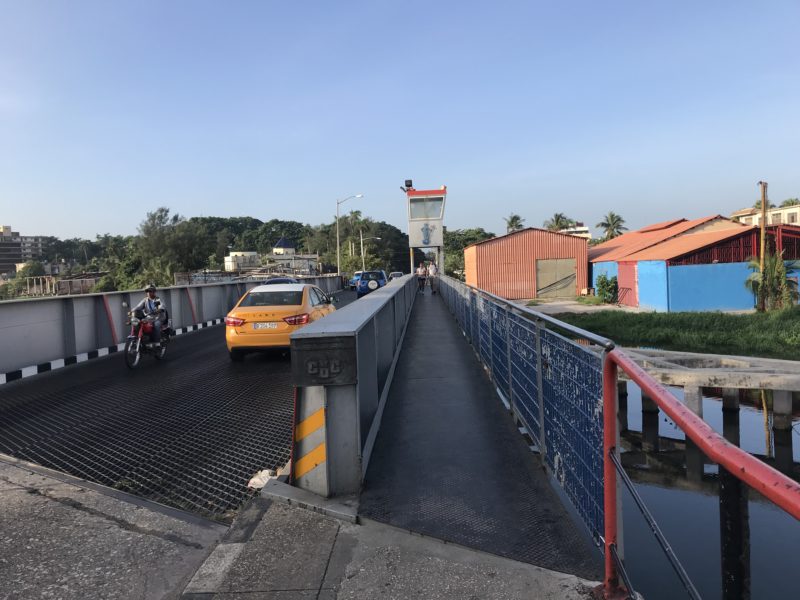 Photo Feature by Irina Pino
HAVANA TIMES – A few years ago, you could barely cross the Iron Bridge. Holes abounded in its structure; both on its railings and on the floor. It was scary to pass. When I had to cross it, I was praying that its rusty floor would not collapse. Below, its waters are usually very murky.
It was built in the last century, under the name of Tram Bridge. With frames that belonged to the Pote Bridge (later dismantled). Founded by Jose Luis Rodriguez Pote, a banker who promoted the Miramar residential neighborhood, which unified Calzada and Quinta Avenida streets. Later, the Fifth Avenue Tunnel was built.
Our Iron Bridge is very convenient, because it links 11th Street of El Vedado, with Miramar. It is a pedestrian and vehicle crossing and opens to allow the transit of river vessels.
It was closed for more than a year, and in 2014 it reopened. It maintains the design of its old construction; but this time high-tech materials were invested, such as naval steel, anti-corrosion paint, as well as a turning mechanism. The control system operates from a command booth.
It used to be well lit at night. There were even employees in each of its booths. Until there were no more employees or lighting.
Still, its popularity has not waned, people use it frequently. When you leave for Vedado, the first thing you see is the Cuban Art Factory and the P3 route stop, with people patiently waiting for the bus.
Although people walk quickly over the bridge, it is pleasant to cross. You can observe the sea and the river in perfect communion. The small boats on its banks and the green habitat on its shores.
It is a beautiful place, with good views, that inspires you to take photographs and videos.