'Cold Air' by Virgilio Piñera Staged
HT Photo Feature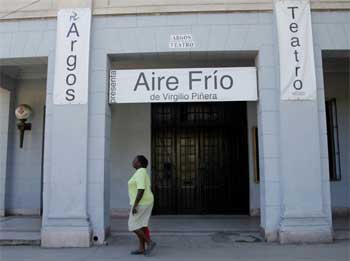 HAVANA TIMES, March 21 — A new version of Virgilio Piñera's play "Aire frio" (Cold Air), presented by the Argos Theatre, began a series of tributes to the Cuba poet, novelist and playwright in the year of the centenary of his birth.
Under the direction of Carlos Celdran, the staging will continue throughout the month of March at the "Argos Chamber Theatre" with performances on Fridays and Saturdays at 8:30 pm and on Sundays at 5:00 pm.
The life of the Romaguera family in the 1920s is portrayed from a different viewpoint however the story remains the same: Luz Marina struggles to advance her family financially through her job as a seamstress, as conflicts occur between the children and the parents.

Click on the thumbnails below to view all the photos in this gallery. On your PC or laptop, you can use the directional arrows on the keyboard to move within the gallery. On cell phones use the keys on the screen.