Cuba at Puerto Rico Tourney, 1st Report
Peter C. Bjarkman (*)
HAVANA TIMES, Oct. 4 — Numerous doubts, confusions and controversies have already surrounded and sullied what should have been a smoothly run showcase event here at the Puerto Rico-based 2010 Pre-Mundial baseball tournament. With all of the top Caribbean and North and South American baseball-crazy countries (with the lone exception of Mexico) slatted to compete, and with six cherished slots in next year's World Cup (Mundial) on the line, this is easily international baseball's top event of the current calendar year.
But one would hardly know it with the absence of any "official" tournament website, the almost non-existence of pre-tournament publicity, and the resulting sparse grounds the first few days here on the island. Most of the confusion, of course, has been centered in San Juan and has revolved around the tournament organization—or perhaps disorganization would be a better description. At the same time most of the controversy—at least from a Cuban perspective—has arisen from the Havana press and spilled over to street corner gatherings all across the Cuban nation. Although the Team Cuba contingent sent here to Puerto Rico may well be the strongest top-to-bottom roster ever fielded by the world's top-ranked baseball nation, nonetheless few back home seem to be entirely satisfied with the personnel choices for this fall's pre-tournament co-favorites.
It has not been easy getting a handle on this event, with so many recent changes in the schedule and format for the tournament's planned three rounds, and with two important teams threatening not to attend right down to the eve of the opening contests. With the Dominican and Mexican federations citing economic  woes for a last-minute decision to stay home, the schedule for round-one games (as well as the makeup of round-one groupings) had to be shuffled a half-dozen times. At the eleventh hour the Dominicans agreed to participate, which at least had one positive payoff, which was the possibility of two evenly balanced six-team groups for opening-round action.
Thus by opening night most of the pre-tournament clouds had lifted. There were still major issues with a tournament website (and thus the access to schedule updates as well as to post-game details). We now at least have a seemingly fixed schedule and three opening-night games did eventually come off without a single major or minor hitch. If there was any embarrassment for tournament organizers during Friday's lid lifters it had to be the completely vacant stadium in Carolina, where about 200 customers at best turned out for what was a quite thrilling match between the Dominicans (featuring ex-big league hurler Bartolo Colón) and upset minded Colombia.
Now a new wrinkle has appeared in terms of the notoriously inhospitable October Caribbean weather. Rain threatened the opening three contests (Cuba's match at Ponce was in doubt until late afternoon due to soggy field conditions at Paquito Montaner) but all were played, albeit to less-than-hoped-for paying crowds. But a second day of action quickly turned into a rainy nightmare for tournament organizers, with the bulk of the problems turning up at the island's western end in Mayagüez. A virtual mid-afternoon monsoon contributed to turning one game into a laughable if not dangerous affair and cancelling a second match that had promised to draw a respectable crowd hoping to watch the always popular Cubans. Gate concerns were probably the least worrisome issue for event organizers, however, since the tight first round schedule could now mean considerable scheduling chaos if there are any more contests washed out on the already saturated playing grounds in Mayagüez.
On the Cuban media front there has (as always) been much grousing about the final selection of a team for this tournament. The outcry was lead primarily by Havana-based Industriales supporters, as reflected by several commentaries on the Radio COCO baseball website. We have written numerous times in our BaseballdeCuba.com columns about "the island of 11 million managers"—a reality that is a true staple of Cuban baseball. Such a phenomenon is of course one of the welcomed beauties and long-standing strengths of the island's baseball culture. Cuban fans and commentators care deeply about their national team and domestic league spectacles and the constant ongoing debates about personal favorites are the very lifeblood of the island's national pastime. When it comes to the National Series pennant races, no fans are more numerous in their numbers or more passionate in their partisanship than the supporters of Havana's Industriales Blue Lions.
And it must be added that no collective group of fans in any corner of the baseball-playing world are better informed in their opinions, or more expert in their analysis, or more intelligent in their understandings of the game's often elaborate science than are the Cuban partisans. Cuba in truth enjoys two national sports—the playing of baseball and the debating of baseball. Cubans as a group are definitely baseball smart and baseball attentive. But the problem is that every street corner debater and every professional journalist all too often assumes that he or she knows far more than the very Cuban baseball brain trust (managers and coaches and commissioners) that has brought them such an almost endless string of international tournament championships.
This time around the widespread public outcry has surrounded selections of a national team catcher and shortstop, plus the election of a proper designated hitter. Las Tunas middle infielder Alexander Guerrero has admittedly been a notable offensive force during the last pair of National Series seasons and a growing throng of supporters favor him as the heir-apparent to long-time team captain Eduardo Paret. But Guerrero so far has no international experience and Cuban management rarely relies on untested prospects for major international events.
By all reports, Guerrero failed to impress in training camp and was thus an early cut—to the dismay of many sideline managers—from this fall's pre-selection national team roster. And since Industriales earned a surprising record twelfth island championship this past spring, Blue Lions supporters who dominate the capital city baseball scene are having a tough time accepting the absence of such local favorites as catcher Frank Camilo Morejón, outfielder Yoandry Urgellés, and always popular utility infielder Rudy Reyes (a late call to the pre-selection roster) from a national team seemingly dominated by the stars of their bitter Occidental League rivals Villa Clara, Sancti Spíritus and Habana Province. Morejón had a strong international debut during the August World University Games and when management decided to carry only two catchers to San Juan there was predictable and universal disbelief in Havana that Morejón was bypassed in favor of Pestano's Villa Clara backup Yulexis La Rosa. Equally galling was what many took as manager Eduardo Martín's selection of his own Villa Clara shortstop Aledmis Díaz as a backup to emerging regular Yorbis Borroto.
And then there is the heated debate concerning the seemingly unshakeable status of Michel Enríquez as the national squad designated hitter. Not flashy and not a power hitter, Michel seems an inheritor of the role once occupied by Osmani Urrutia. Enríquez does nothing but hit and hit and then hit some more. How easy it is to forget that Enríquez, despite lacking big home run numbers, reins as the all-time national time RBI producer; not Linares or Kindelán or Cepeda or Gourriel but Michel Enríquez. And what statistic in baseball is more indicative of victories than run production? Michel still stands number two all-time in National Series batting average, trailing only the now-immortal Linares. There was a hue and cry from Havana last month that Urgellés should replace Enríquez simply because the Blue Lions favorite provides another scarce left-side swinger. Fans remember Urgellés's one big hit to decide a gold medal Intercontinental Cup match with The Netherlands several years back, but they forget his lack of productivity on the bigger stage of the Beijing Olympics. Urgellés's international record pales compared to Michel's. You can have Yoandry in your National Series playoff lineup, perhaps, but give me Michel every time when it comes to the big pressure international games. Enríquez stands shoulder to shoulder alongside Cepeda, Despaigne, Pestano and Gourriel when it comes to Cuba's most reliable and productive offensive stars. The bigger the games, the better Enríquez seems to perform. The Cuban brain trust knows this well and that alone is why Michel remains a Team Cuba lineup fixture.
Debates surrounding the Cuban selection may not have been entirely quieted in all minds on opening night of Pre-Mundial action Friday in Ponce, but there could hardly have been a better demonstration of the value of having Pestano behind the plate, Borroto at shortstop, and Michel Enríquez in his familiar DH slot. Enríquez put the game away with a ringing eighth-inning bases-loaded blow and shared the run-production lead (three each) with Borroto and Héctor Olivera. Yorbis Borroto not only produced the pair of early go-ahead runs with his clutch two-out base knock but also flashed defensive magic in the middle of a miraculous backhanded gem by Olivera (a memorable play that turned a seemingly certain up-the-middle hit into an eye-popping second to short to first bang-bang putout). And Pestano was simply once again Pestano, calling a masterful game behind the plate and blasting three hits, the first of which ignited the team's initial third-inning rally.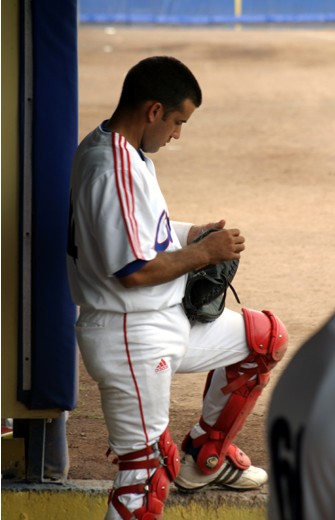 Cuba waltzed through its first outing without breaking much of a sweat. Vera and Pedroso completely mastered a Venezuelan offense that seemed even less imposing than the one Nicaragua presented during the five tune-up matches last week in Havana and San José. Allowing only five hits between them and surrendering no earned runs, the pair of frontline Cuban hurlers didn't issue a single free pass (base on balls) during the entire evening. Possessing only a limited trio of hefty bats from last fall's World Cup team—shortstop Dirimo Chávez, first sacker Javier Colina, and outfielder Williams Vasquez—Venezuela will likely move on the round two.
But the Venezuelans (who handed the Americans their only setback at the outset of last year's world championship games in Germany) hardly appear a medal threat here in Puerto Rico. The score in Ponce Friday evening could quite easily have been 12-0 or 14-0, with the potent Cuban offensive missing several additional "golden" scoring opportunities and with Despaigne's unnecessary and careless outfield boot gifting the Venezuelans their only unearned tally. Apparently the biggest round-one challenge for Eduardo Martin's club will be staying focused and motivated until the more serious second-round matches with the Canadians, Puerto Ricans and co-favorite Americans eventually present themselves.
Day two of the opening round turned into a lengthy waiting spell for team Cuba. The ball club returned to San Juan after Friday's opener in Ponce and was scheduled for a mid-afternoon bus departure to Mayagüez for the Saturday night encounter with the Netherlands Antilles. Heavy mid-afternoon rains, however, interrupted the afternoon match in Isidoro García Stadium between Canada and Nicaragua and put the rest of the day's calendar in serious doubt. The attractive new beach-front Mayagüez ballpark, built for this past summer's Central American Games, boasts first-class grandstand accommodations and luxury press facilities but suffers from inadequate field drainage and questionable grounds crew maintenance. After a steady two-hour Saturday afternoon downpour the outfield was a virtual lake and thus seemingly unfit for any further action.
Ultimately a decision was made to restart the afternoon contest (with Canada leading 3-0 after three complete frames) but cancel the evening match. While Cuba remained ensconced in San Juan, Canada and Nicaragua slogged through a remaining six innings of an ugly contest that didn't terminate (with a 7-6 Canada victory) until after 8 pm and was marred by sloppy play and even worse field conditions. The inartistic contest featured six hit batsmen (none intentional) and several outfielders and infielders losing their footing while attempt routine defensive plays. The game-winner for Canada came in the top of the ninth when what appeared to be a sure-fire rally-killing double play ball squirted past the helpless Nicaraguan shortstop and thus allowed an unmerited game-clinching tally.
Hopefully a break in the ominous weather pattern and sufficient sunshine will repair field conditions enough to allow Cuba to play Sunday evening's match here with Argentina. What will happen to the remaining round one tournament schedule as a result of last night's rainout remains an open question. The only available first round makeup slots allowed by tournament scheduling occur on Wednesday morning at the ballparks in Ponce, Mayagüez and Carolina. Cuba has a bye on that final day of round robin competition, but the Antilles club is scheduled for an evening match with Canada in Paquito Montaner (Ponce). A hypothetical solution would therefore be to reschedule the lost game at 1 pm Wednesday in Ponce, leaving Antilles with an unenviable but perhaps necessary task of playing an unwelcomed day-night twin bill. But nothing "official" has been announced and the likely further rains here on the island in coming days could cause yet further havoc with the planned tournament format. Some drastic changes in the planned round two format are still not out of the question—a rather ominous prospect for an event that has already been marked by such disorganization and confusion from the very outset.
(*) Peter C. Bjarkman is the author of A History of Cuban Baseball, 1864-2006 (McFarland, 2007) and is widely recognized as a leading authority on Cuban baseball, both past and present. He has reported on Cuban League action and the Cuban national team for www.BaseballdeCuba.com during the past three-plus years and is currently completing a book on the history of the post-revolution Cuban national team.